Baobab Beach Resort and Spa -
Kenya's Leading Family Resort
Are you looking for a family trip that will vividly blow your young one on?
Well, look no further than Baobab Beach Resort and Spa, the heaven where your dream vacation comes to flourish.
Situated along Diani Beach, one of the prettiest stretches of white sand in the world, Baobab Beach resort offers good value and amenities for families. On severally occasions, it has been voted as travellers preferred all-inclusive family resort.
Initially called the Robinson Club, which was a small sizable members-only club, it was later renovated and upgraded to a four-stat family resort with three-in-one properties - the family friends side, executive side, and adult-only quiet side.
Although each wing has its amenities such as pools, dining areas, lounge, and bars; you are free to utilize all the leisure facilities across the resort without any restriction.
So you don't have to walk far to get a drink or snack!
But if you need a break from the kids, Maridadi wing is restricted to guests who are 18 years and older. It is a serene and calm wing for guests who want to relax and enjoy a peaceful ambiance.
Resting on an eighty-acre piece of land, the properties are well spread-out leaving out plenty of space for outdoor activities. It is also surrounded by indigenous tropical forests, breathtaking lush gardens, natural coral cliffs, turquoise clear ocean waters, and a beachfront that stretches to over 500 meters.
Our Tip: Colobus monkeys and baboons reside in the nearby forest and can often be seen roaming around the resort. You can take a selfie if you wish, but kindly avoid coming too close or feeding them
For the Kids?
Well, when you arrive, your child will be enrolled at the Rafiki Kids Club where she can try various intra-active activities such as tortoise feeding, fish feeding, beach walks, beach games, dancing, swimming, kids disco, and much more.
The curved infinity pool directly facing the ocean is very popular with kids.
Even kids as young as one year can join the club, which is specifically tailored to meet their individual needs so that you can have the time and flexibility to enjoy vacation on your own terms.
Baobab Beach Resort and Spa Dining
With six world-class bars & restaurants, you can spend almost the entire week at Baobab Beach Resort and Spa without reading the same menu twice.
And if that's not enough, each night is a themed night where the dinner setting blends a different part of the world.
Has for the all-inclusive restaurant, the inclusions are very generous with some unique additions such as international sparkling wines and tropical cocktails.
All premium drinks and beverages are usually on an all-inclusive package up to midnight, then, after midnight it's chargeable. But for more sophisticated drinks comes as an extra.
In addition to its amazing restaurants, Baobab Beach Resort and Spa offers an ice cream kiosk, fruits stand, and milkshake bar by the infinity pool - kids really love it!
Rooms
With over 300 rooms, there are multiple lodging options including a family junior suite that can accommodate four people featuring a separate living room and a bedroom. And if you want space, superior rooms are more spacious and come with two queen size beds, the best option for a family.
Other room options include garden-view rooms, sea-facing rooms, seafront rooms, and deluxe rooms.
All rooms feature modern amenities such as flat-screen satellite television, high-speed internet, a mini-fridge, an electronic safe, a hair dryer, and other standard accessories. They also feature a private balcony or terrace.
Entertainment and Activities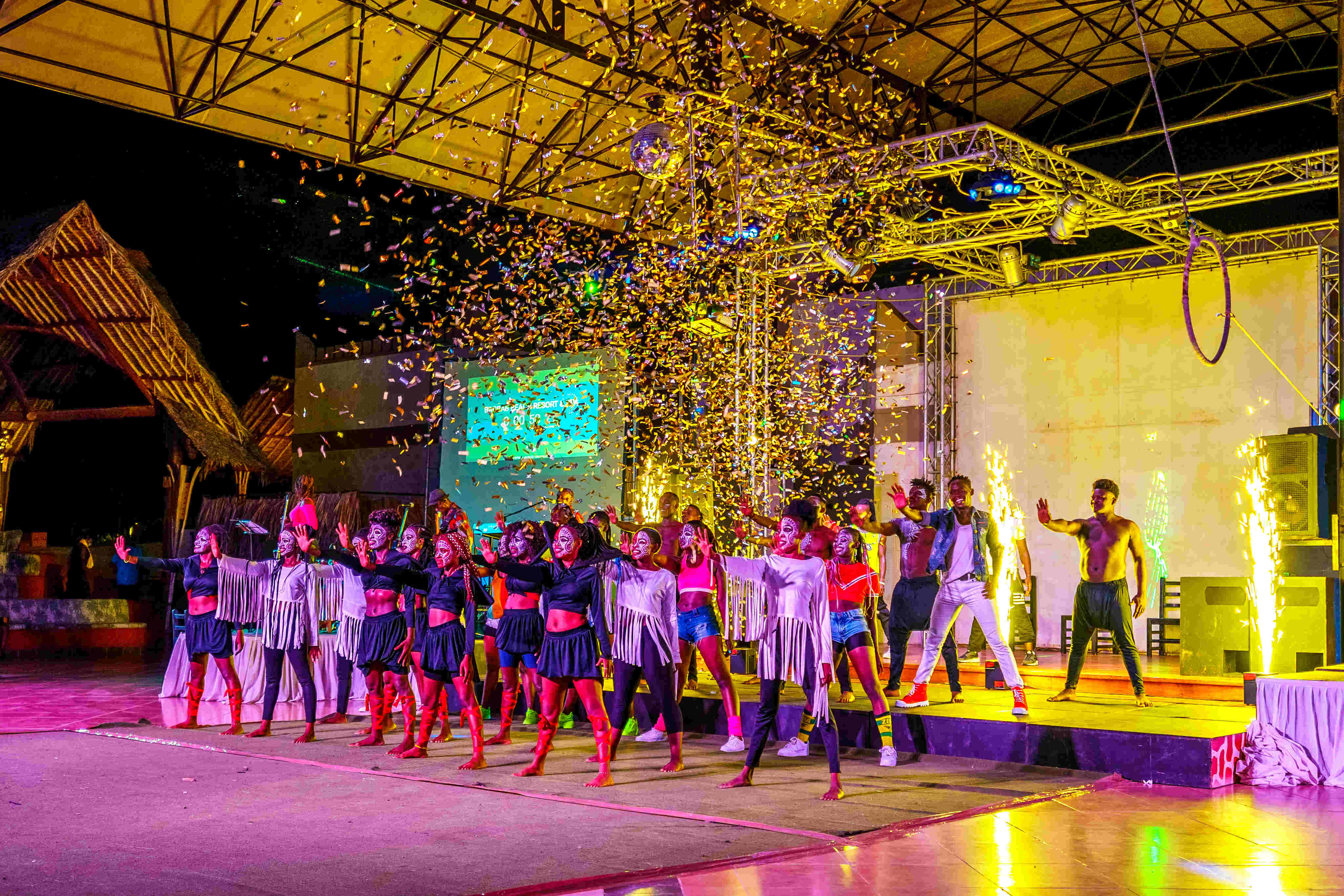 With tons of onsite activities, you will never need to worry about a dull moment at Baobab Beach Resort and Spa.
There is an array of activities to keep you entertained ranging from beach volleyball, water polo, dance aerobics, long table tennis, basketball, archery, darts, kayaking, nature trail, hotel tour, and much more activities.
Again, Baobab's location is perfect for both divers and snorkelers with over 32 dive sites each one filled with reef sharks, all types of tropical fish, and sea turtles. But just know water sports excursions, spa treatments, boutiques, and shopping in the resorts are extras.
And if you prefer just relaxing on the beach is the most beautiful stretch of powder white sand beach with very well-spaced sunbeds facing the gorgeous waters.
Our Tip: Can you tell which beachside you are on… Diani Beach or Galu Beach? They both intersect here though many people don't know exactly where!
And for a nightlife extravaganza, Baobab Beach resort and Spa has it all set up for you.
It is the only resort with an amphitheater and it has become legendary for its nightlife vibes. They do daily themed entertainment shows such as acrobats, music, singing, dancing, and disco. And if you would like to enjoy a drink, there is a bar available within the amphitheater.
So when it comes to luxury all-inclusive resorts, Baobab Beach Resort and Spa is one of the best in the world and one of my personal favorites…I love this one!