The Sands at Nomad Beach Resort on Mombasa's Diani Beach
Located in natural tranquility where nature offers pleasure especially when you need a hassle-free beach holiday, the Sands at Nomad Resort is a fine taste of serene.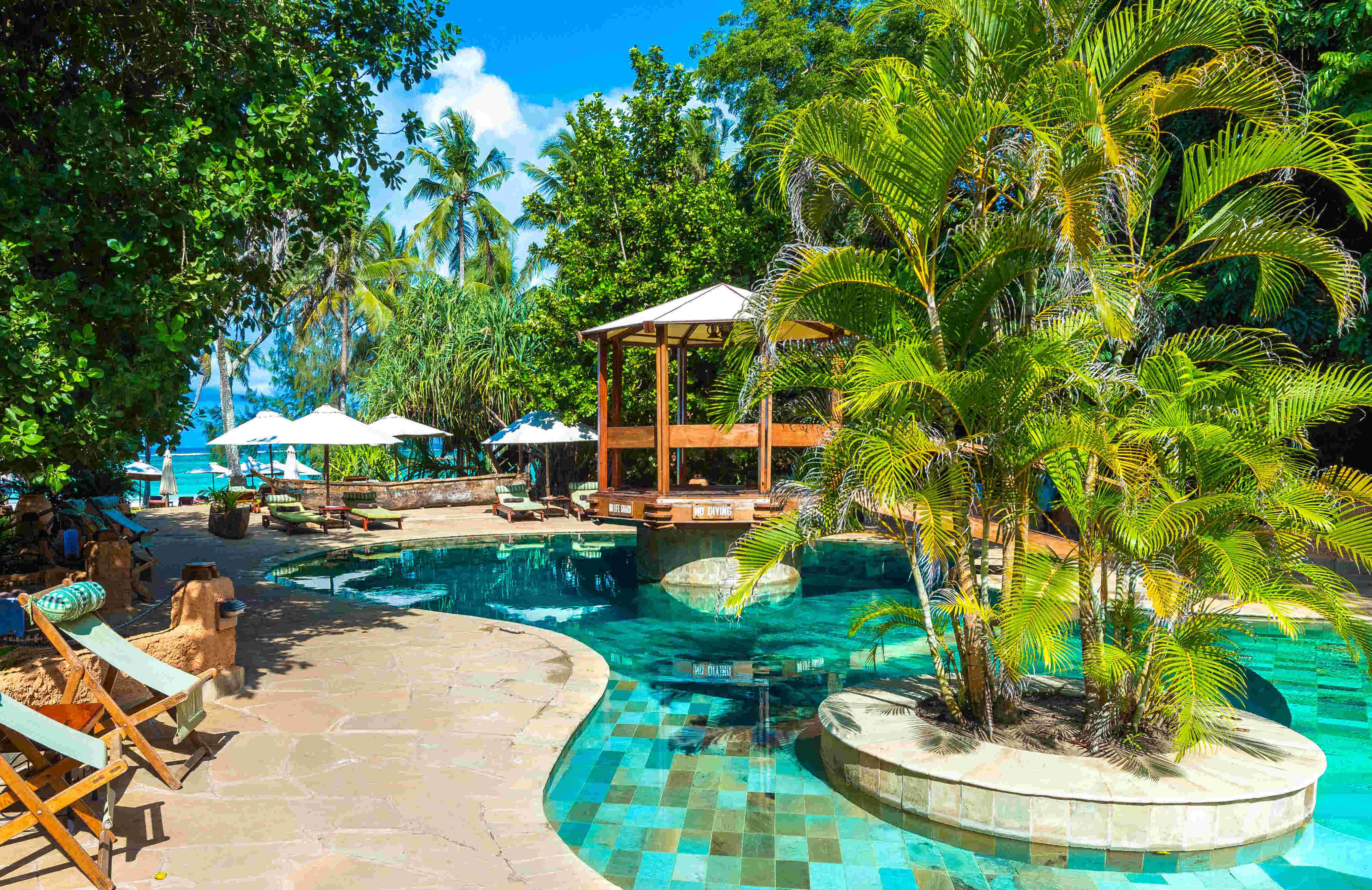 Nomads focus especially on environmentally conscious travelers who want to disconnect from technology. It has as little impact on the surrounding environment as possible giving you a feeling of the impotence of unspoiled nature.
You will be hard pressed to find a resort that has retained a laid-back luxury and adheres to a simple back-to-nature living ethos as the Sands at Nomad Resort.
The Sands at Nomad welcome's all guests but is best suited for adult guests who want to make it a romantic gateway trip with friends, families, or travel adventure.
With a "Jambo, Jambo" welcome and smiles from the staff, you'll soon be in the mood for the ultimate getaway vacation.
The Sands Accommodation
With ocean view rooms on one side and garden view rooms on the other side, the Sands have 29 rooms and cottages that perfectly capture the theme setting of this tropical hideaway. Even at its full board, you will never feel like it is crowded.
There are no TVs or radios in the rooms, but that is the point so that guests can focus on the calmness, scenic beauty, and breathtaking views. However, there is Wi-Fi just in case, and just in case, you have to connect to the outside world.
There are four categories of rooms you can choose from. That's the beach side cottages, ocean view and superior ocean view rooms, and the sea breeze or forest view rooms.
Forest view rooms are designed to give you unique views of a forest full of monkeys and birds, while the ocean view rooms offer a panoramic view of the beach and sea through the palm trees.
Cottage and ocean view rooms have soaring thatched roof ceilings that peek out among the palms, sweeping ocean views, and leafy tropical private gardens as well as a beach area and lawn perfect for spending the whole day soaking up the sun.
Our Tip: Guests looking to explore off-property will also find plenty of shops, restaurants, and animation sites nearby. Taxi services are available within the resort for easy transportation.
The Sands at Nomad Restaurants
Dining at Nomad has become legendary and the food here is often considered among the best in Mombasa. The hotel features three restaurants that serve different kinds of Kenyan, Japanese, and Asian cuisine.
This four-star resort is non-inclusive. Other than the complimentary drinking water in the rooms; any other drink you buy.
Nomad Beach Bar and Restaurant
This is the main restaurant and the most famous. And guess what; no reservations are required.
It is open to both resident and non-resident guests and serves breakfast, lunch, and supper buffets. However, on weekends and holidays, non-resident guests are required to purchase a service voucher before admission - this is just a measure to control crowding and keep the restaurant relaxed.
There is no Wi-Fi in the restaurant; you speak to each other, enjoy the food, enjoy the drinks, enjoy the view and enjoy live jazz band music.
The Riva's Pool Bar-Restaurant
The Riva's Pool Bar-Restaurant is an ala-carte menu and it's exclusive for resident guests only.
It serves light snacks and lunch during the day but at dinner, it is fully operational. Its main menu is grilled barbecue and Teppanyaki (a Japanese fusion menu). The service is more personalized such that you can design your Teppanyaki and have a live cooking experience at your table.
And on something more special; there is a romantic full moon dinner by the beach every month for all the in-house guests.
The Indulge Restaurant
This is a very special fine wine dining restaurant. The Indulge Restaurant. As the name suggests, it is a restaurant to dine and really feast.
It does five or six-course meals with or without wine pairing. There is no menu, so you choose whether you want to eat vegetarian, seafood, meat, or chef's choice and select one theme.
It opens only for dinner and takes only one booking per day. You have a chef and sommelier to match wine with your dining. Though it costs quite a fortune to dine here, it is worth the service especially if you want to create a memorable experience.
The Sands Eco-Friendly Activities
There is plenty of experiences for guest looking truly to get the most out of their visit.
For example, each morning, there is a guided nomad forest bush walk between 7 am and 8 am for interested guests.
If you are interested in environmental conservation lessons, Nomad 'Green Team' is ready to help.
Their organic farm, turtle hatchery, and recycling projects have recognition internationally. Some of their farm produce and recycled products are used within the resort, while others are sold or kept at their collection centre.
And what could be more perfect than a health spa treatment? Forest Breeze Fitness Spa and Wellness Centre is a bio-conscious spa treatment and in fact, I've heard it said, that many guests return here because of their service.
For sea excursions, Diving the Crab and Nomad Water Sports Centre have a diverse array of onsite activities like snorkeling and scuba diving lessons before heading to dive sites where you can swim with whale sharks or sea turtles. There are also organized fishing excursions, sailing boat trips, Wasini dolphin trips, and much more.
The sands at nomad have a sister resort where you can enjoy magical moments as well at their stylish and private resort - The Sands at Chale Island… a hidden paradise gem in the Indian Ocean and a perfect romantic getaway.