Voyager Beach Resort –
Paradise in Mombasa
What do you get when you combine…
docking in different parts of the world every other day
having different look and feel theme every other day
different night theme every other night
The answer is in the only shipping resort in the whole of coastal Kenya… M.V. Voyager Beach Resort.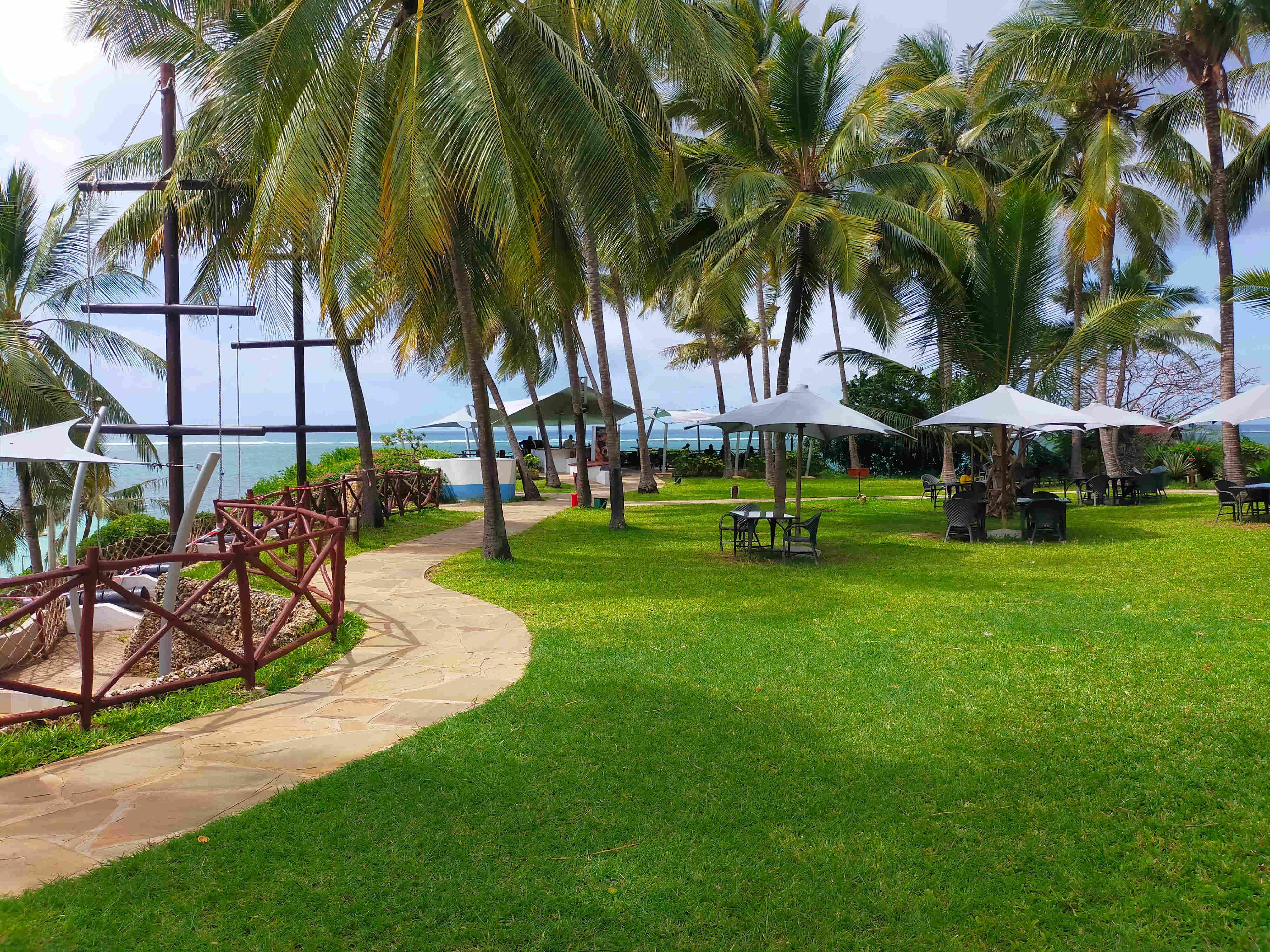 Nested overlooking glimmering aqua-blue waters of the Indian Ocean and pristine Nyali beach white sands, Voyager Beach Resort is perceived to be a moving ship every other single day.
Where Do We Dock to Night?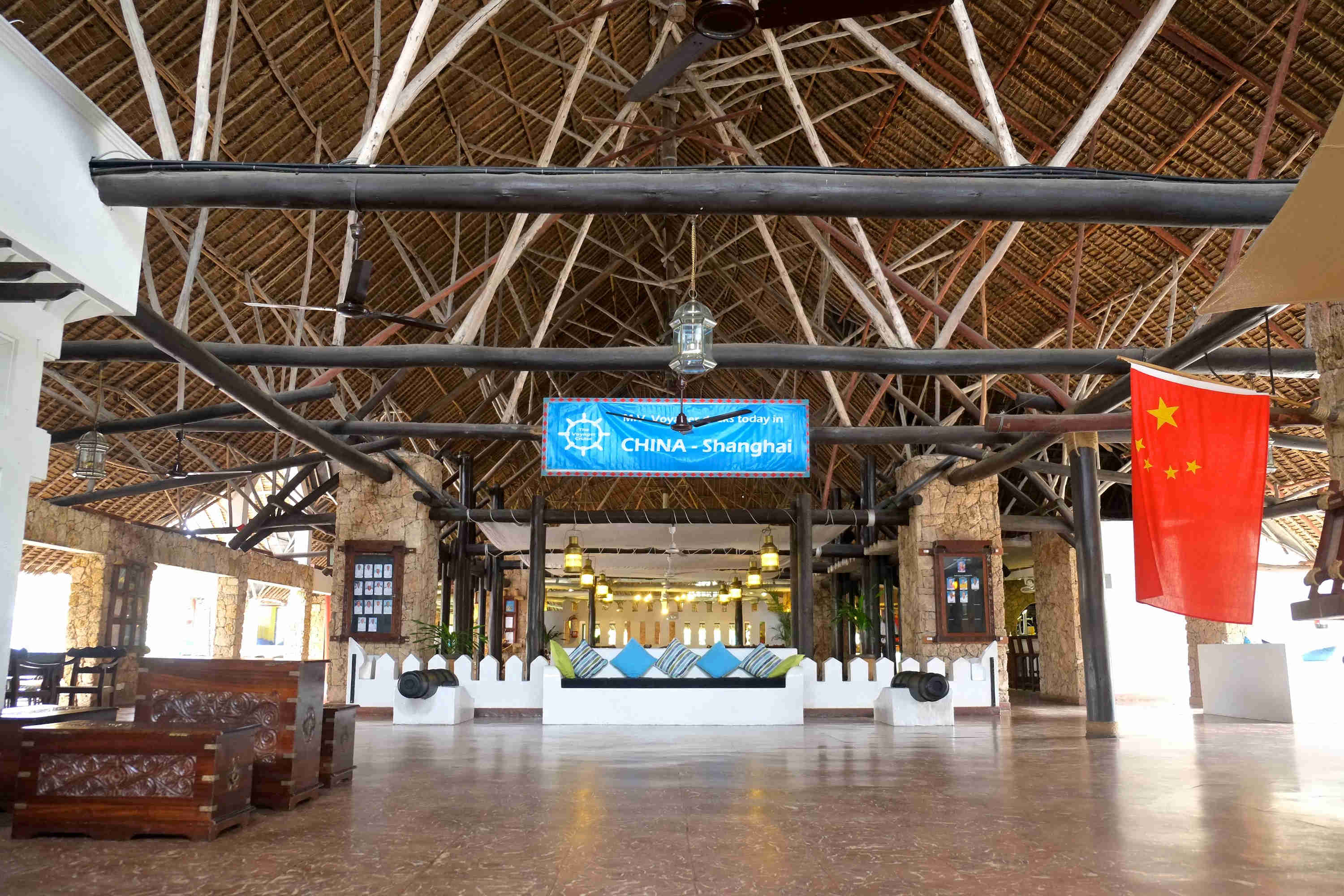 With maritime echoing through the resort, Voyager Beach Resort is a ship-themed resort.
So when you hear words like; passenger, officer, deck, cabin, and so forth, don't get surprised.
The 'ship' docks in fourteen different parts of the world every other day, Kenya being the only repeated theme twice a week. If you check by the captain's lobby deck, the flag symbolizes where the ship will dock and the day's theme.
The dinner setting, entertainment, evening décor, and even the crew uniform are all set to embrace the day's theme. If it docks in Kenya its a Kenyan theme, if it's in Mexico it's a Mexican theme, in Lebanon it's a Lebanese theme and if it doesn't dock it's high seas theme…
Our Tip: On special festive days, the theme is set to embrace the event. On a day like Valentine's day, the theme would be 'Love on the Voyage'.
Inside the Voyager Beach Resort and Spa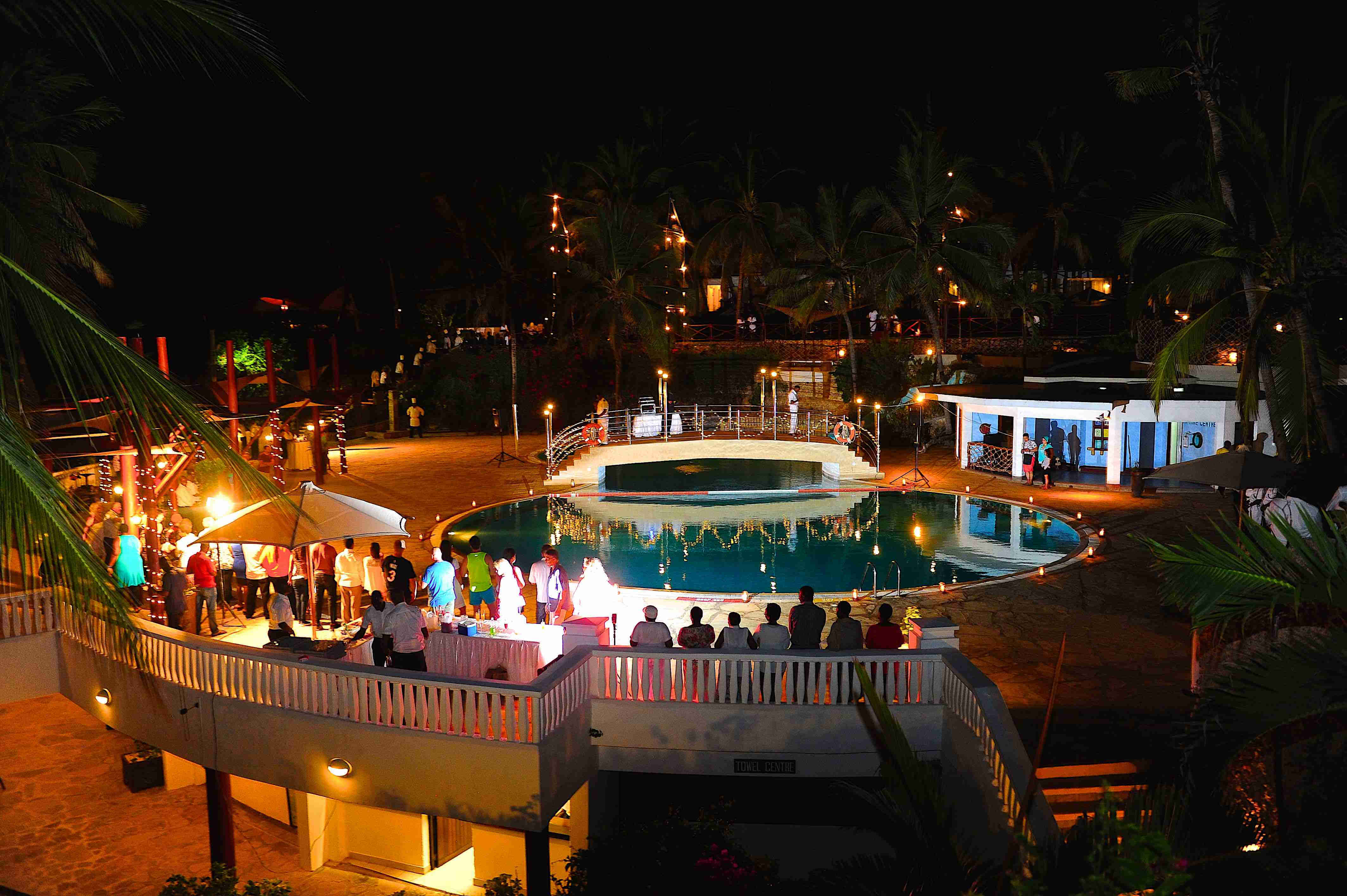 Being part of Heritage Group of Hotels, Voyager Beach Resort has things well organized.
First, the welcoming is of a royal queen... guards salute and playing of the trumpet to alert the ship's crew the queen has arrived… it makes one feel so special.
M.V. Voyager is more of a family-oriented resort, so the ambiance is usually vibrant and casual.
The resort has three swimming pools, each with a different feel, a pool bar, live music, a supervised kid's club, comedy & acrobatic shows. Definitely enough to keep even the most demanding of kids, and parents, busy for weeks!
On arrival, your child will be invited to join Adventurous Kids Club where they organize a variety of activities like castle building, ball games, dancing activities, arts and crafts games, aerobics, competitions, and much more.
You have the option of taking your child for lunch or letting the animators take them and pick them up in the evening.
When it comes to dining, M.V. Voyager features three restaurants; Mashua Restaurant, Smugglers Cove & Minestrone Restaurant which serve delicious and exciting continental and Italian dishes to ensure your stay is bliss.
Get even more into that holiday mood while relaxing at Lookout Bar. Overlooking the ocean, the cliff bar has the best ambiance and wide view.
Our Tip: All-inclusive package is for assorted drinks and the package run up to midnight. After midnight to Ten o'clock in the morning, it's a cash service.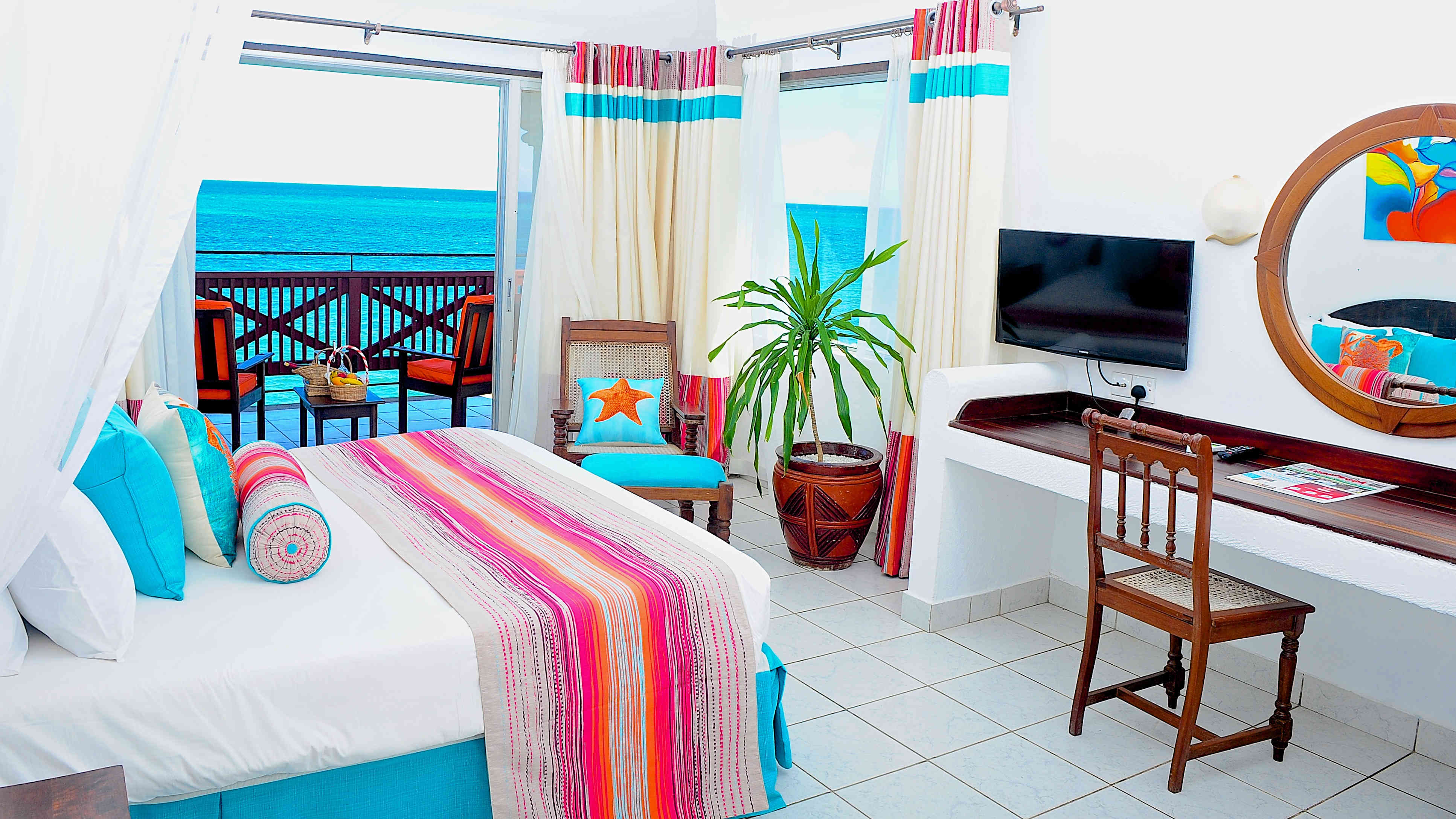 All the rooms (garden view, sea view and suites) have maritime-themed decor enhancing the sheer wonderfulness of coastal Kenya. And they come furnished with modern standard amenities such as high-speed internet, TVs, coffee-making machine, and safes.
Rooms are also fitted with smoke detectors. So if you want to smoke you can either use your balcony or designated smoking area.
Despite all the fun and activists going around, you can still have a serene ambiance at Swahili Lounge... a stress-free quiet zone. You can just lay on the swing beds and let the soothing sea breeze blow off your anxieties. Sorry! No food, smoking, or music is allowed inside.
Though it's an all-inclusive resort, water activities come with an additional fee. But is worth it. You can't have a voyage vacation without experiencing what the pirates of the sea (Buccaneer Water Sport) have to offer. Their activities range from diving lessons, sailing lessons, windsurfing, boat rides to Mombasa marine pack, deep sea fishing, and much more.
Voyager Beach Resort is close to several other sites that you can easily explore. Places like Nyali Cinemax, shopping outlets, Nyali golf club, Mombasa Village, Wild waters, Bamburi nature trail, and an array of restaurants
But there is only one problem with M.V. Voyager; you never want to disembark.