Fort Jesus - Mombasa's Number One Tourist Sight
Overlooking… guarding Tudor creek - Fort Jesus is a perfect introduction to Mombasa's past history. 
16th Century Fort Jesus
Built using coral rock, burnt lime, sand, clay; this magnificent structure represents the ancient Mombasa and the beginnings of a unique culture through thousands of years ago and the traditions that have survived to this day

If you are in Mombasa and you're planning short excursions before heading off to the sandy beaches and the blue waters of the Indian ocean, then Fort Jesus is a perfect stopover.  
If you wish, you can navigate the fort on your own since there are placards placed along the paths. However, someone guiding you and narrating the chronological flow of the evens is so exciting. Even if you had been here before, every narration seems like a new trailer when told by a different person.

I recommend you get a tour guide from inside the fort. They are well informed and act more professional. There is no fixed fee for a tour guide, but what you two agree.
Brief History of Fort Jesus

Fort Jesus was built toward the end of the 16th century by the Portuguese with the help of the Swahili people. It quickly became a vital asset in controlling Mombasa's old town and surrounding East Africa trade routes.

From a bird's-eye view, the forts look like a man lying down facing the sea ready to defend. A unique shape that made the fort hard to conquer. 
After years of Portuguese rule, the local people were not happy with the rule because of relational and trade differences. They approached Omani people for help, which began nearly a three-year war for control of the fort; a war Omani soldiers eventually won.  
Since anyone in control of the fort was ruling Mombasa; recapturing it was important. What followed were years of battle, with each war leaving behind another mark of history.
The museum, within the fort, the Oman House is a must-visit and helps you to get a better understanding of the fort's fascinating history as it changed hands from Portuguese to Arab, to British rule and the changes wrought by the various rulers suit their interests.
Also, the fort has vital clues of how the local community was affected and gave birth to Swahili culture.
Fort Jesus is an important historical site and UNESCO World Heritage site managed by the Kenya National Museums. 
Fun Activities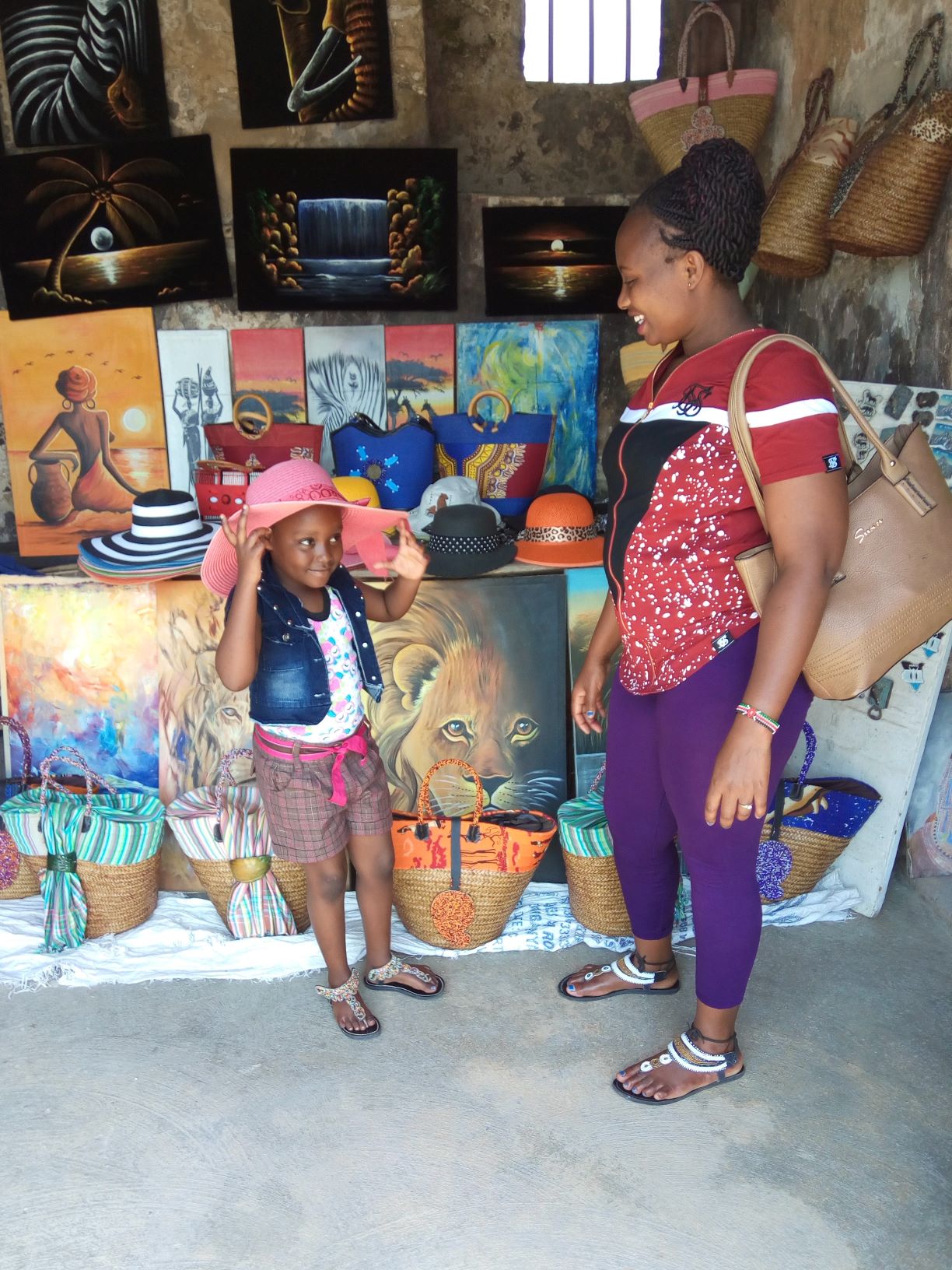 My Wife and Daughter Shopping
If you fancy African fashion style, there is a curio shop with beautiful artifacts and fabrics to be your memento.
If you enjoy taking pictures just like I do, you are free to take as many as you wish. However, in Oman House, where they keep artist drawings, photography or filming is not allowed. But in case you're interested in one of the arts, they do sell.  
At the watchtowers, you will have a picturesque panoramic view of the ocean and the surrounding neighborhoods of Mombasa old town and opulence suburbs of Nyali and ships sailing. If you are lucky too, you are likely to see a group of boys competing to swim across the Tudor creek. 
After your Fort Jesus tour, spare some time to visit the nearby Mombasa Butterfly House, Swahili Cultural Center, and Mombasa old town. You can request your guide to take you around. 
If you have a special occasion like a fairytale wedding, Fort Jesus' management usually rents out the ground. Just ensure you make your booking early for preservation.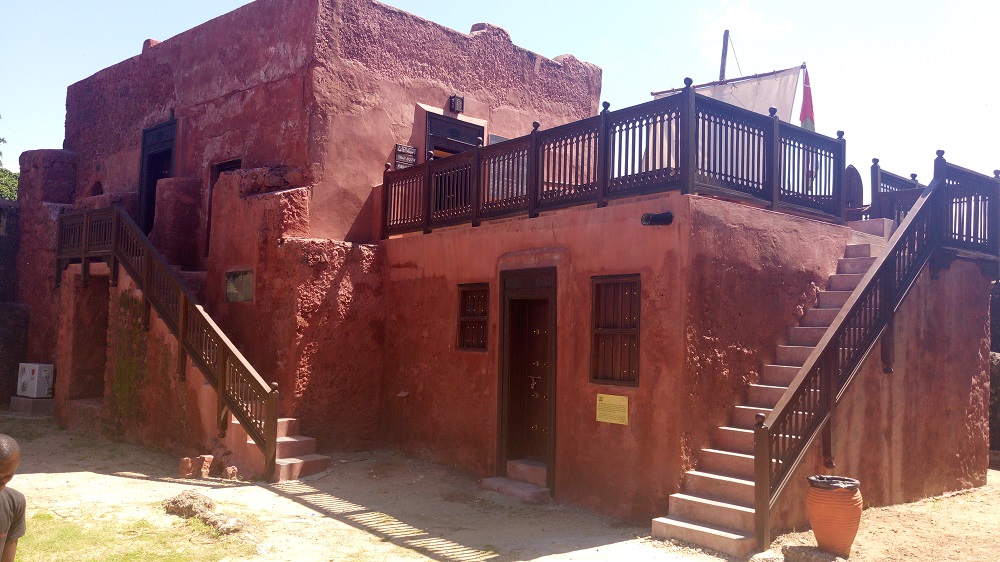 Oman House
Getting to the Fort

Fort Jesus is next to the ancient old town of Mombasa. If you are within the city and you are familiar with it, you can easily walk to the fort. However, you can hire a Tuk-tuk or motorbike to take you up to the gate of the fort. 
Most matatus don't go up to the gate but will drop you close enough, where you can walk. But if you prefer a prestigious tour, there are several tour companies you can book your safari. My favorite is Bonfire Adventures; I like their safari deals and packages.
Fort Jesus opens to the public every day from 8 am to 6 pm. The charges differ depending on whether you are a local citizen, East Africa resident, or international visitor.