Nairobi National Park Essentials
Nairobi National Park – the world's only safari park bordering a capital city. Here lions, leopards and rhinos roam free across the African plains, while in the distance the Nairobi skyline rises up from the savanna.
Nairobi prides itself on being the only city in the world to have a national park within its boundaries. You don't have to go very far to see wildlife as nature intended, no wonder it's nicknamed the "Safari Capital of the World".
After a 20 minute drive; we were at the Nairobi National Park which is about 10 kms from the city center. The weather was very favorable – a bit sunny, windy and cloudy- suitable for a game drive. I was privileged to have my family and four of my friends accompany me on what proved to be an awesome experience.
The Baboons are Waiting to Steal your Lunch!
Baboons at the entrance to the park
Since we didn't have our own private vehicle to tour the park, we had to book a KWS (Kenya Wildlife Service) van. Of course it's more affordable than other tour firms that offer game drive services to the park. The only disadvantage is that you'll miss the fun of being picked and dropped back at your doorstep.
As you are heading towards the main park's gate, beware of the baboons loitering around. If you are holding something edible be careful they don't snatch it way. Although it's tempting to feed them, kindly don't. They may grab the food faster than you expect and you may get hurt in the process.
After we made payment and completed the paper work from the official at the main gate, we were directed to our van by our tour guide ready for a game drive tour. Our first wildlife we spotted as we drove in near the main gate was a giant tortoise and warthogs, an awesome welcome to the park.
Ivory Burning Site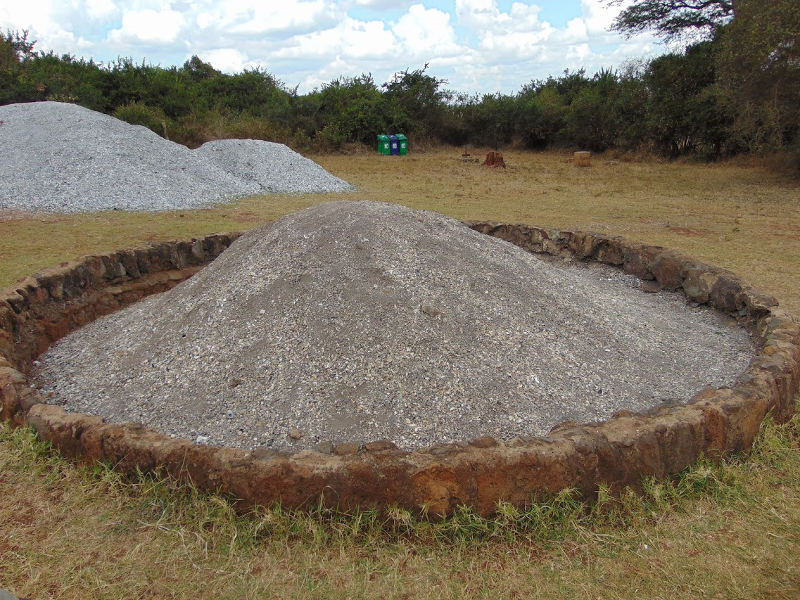 Burnt Ivory
We stopped at the famous historic ivory burning site, the only place other than picnic sites, where you are allowed to get out of your vehicle. The site is famous for burning ivory to discourage poaching and just recently 15 tons of elephant tusks and rhino horns were set ablaze by our president. In an effort to preserve its wildlife heritage, ivory trading and wildlife poaching is strictly outlawed in Kenya.

Set against the backdrop of Nairobi's skyline of towering skyscrapers, the view of the city from the park is just spectacular. As we drove deeper into the wilderness, the drive through the varied savanna alone was another spectacular and thrilling adventure. 
Nairobi National Park Animals
Being a natural habitat, the park is home to many species of wild animals and over 400 bird species. It's also home to several reptiles like tortoises, monitor lizards and crocodiles.
With the exception of elephants, which were trans-located to reduce human - wildlife conflict, the park is home to the other Big Five animals – rhino, lion, leopard and buffaloes. In fact, it's the best park in Kenya, if not the whole of Africa, to see the endangered black rhinos in the wild.
Some of the other wildlife  you can expect to see include cheetahs, hyenas, jackal, herds of different species of herbivores like giraffes, bushbuck, zebras just to mention a few. Vultures, ostriches, eagles, guinea-fowl, herons, and ibises are some of the birds not to be missed.
From a distance as we approached closer we could sport several herds of zebra, buffalo, Masai giraffes, wildebeest, different species of antelopes (impala, eland and gazelles in particular). 
If you prefer self-drive and you have your own car, which is the cheapest way of seeing the animals, ensure you get yourself a guidebook at the entrance to help you navigate and easily spot animals.
Roads are well maintained and passable by 2WDs vehicle but in rainy season it would be best to use 4WDs.
Don't forget to carry a camera to catch the fun moments and binoculars… some animals can be really hard to see well unless you have binoculars. Other essentials are sunscreen, sunglasses, a hat and drinking water.
The vegetation is largely comprised of open grass plain with scattered acacia bushes. When dry, the lush tall grass is good camouflage for carnivores to ambush their prey. At the western side of the park is highland dry forest that once covered large parts of Nairobi city. Along the watering holes margins and dry river gorges, the vegetation is lush.

Nairobi National Park is well served with watering holes. At some water pools we could see hippos peeping at us and crocodiles lay in ambush for animals coming to quench their thirst. There is a nature trail at Hippo Pools watering hole, only recommended if you have an armed escort.
There are a number of safe picnic and camp sites guarded by the park wardens where you can sit and have your lunch or night experience (you need to book in advance and notify the management when you are coming at night). Also there is an elegant private wedding venue set in the beautifully lush green scenery - a wedding in a jungle is such a unique lifetime memory.
After a long drive without spotting any of the big cats (lions, leopards and cheetahs), we asked our tour guide to help us find one. He was so sorry to tell us it was unlikely we'd meet any of them. Afternoon in the Nairobi National Park, or any game park, is not the best time to spot them. At this time they are mostly resting, the best time is early morning or evening.
Although we felt a little bit disappointed, we kept our hopes alive but, true to his words, we were not lucky.
It took us about 3-4 hours to go around and see most of the Nairobi National Park. We had a great time driving around and getting to see different kind of animals and birds. Any day spent at the park brings the family much closer, enough of a reason for repeat visits. Nature is unpredictable and every time you visit, there will be something new to amaze.

Animal Orphanges
Our guide encouraged us to visit the Animal Orphanage or Safari Walk adjacent to the main gate where we would see the big cats much closer in an enclosed area. There is an entrance fee to get in and once in we saw lions, cheetahs, leopard, hyenas, white rhinos and other animals at a very close range. The animals are usually placed here after being rescued from various parks to reintegrate and later reintroduce into their natural habitat.

If you are interested in seeing elephants too, the David Sheldrick Wildlife Trust, which cares for orphaned or injured baby elephants and rhinos shares the same boundaries with the Nairobi National Park. They open to the public for one hour every day (from 11 a.m. to 12 p.m.), excluding 25 December when they are closed. During open time you'll see the orphans arriving for their midday mud bath and feeding.
Brief History of the Nairobi National Park
Nairobi National Park is Kenya's oldest game reserve, established by the colonial government in 1946. The park occupies 117 sq km of total land and it's about 10 kilometers from the CBD.  There is an electric fence separating the parks from the cosmopolitan city areas to help minimize human-wildlife conflict in what is one of Kenya's most successful rhinoceros sanctuaries and protects the endangered black rhino.
Being close to the city there is some pressure on the wildlife. New homes and fences block ancient wildebeest migration routes. These wildebeest, together with other herbivores, disperse across the Athi-plains in the wet season and gather back in the park during the dry season.
Although the government of Kenya is keen to preserve its wildlife heritage, there is much to be done. Recently, the park's famous lion 'MOHAWK' was killed after he broke through an opening made in the fence. In the past too, communities living near the park have targeted lions which they blame for attacking their livestock.
On the other hand, poaching incidents in this park are near zero. Since a rhino was slaughtered right here in the heart of the park a couple of year's back, despite the park being so close to the headquarters of Kenya's wildlife rangers, much has been done to prevent such incidence from reoccurring.
Getting to Nairobi National Park
Although the park has five gates you'll need to head to the main gate off Langata Road if it's your first visit as you'll need a smart safari card that can be bought and loaded only at the main gate.
You can catch any public bus going past the main gate to get here, I like the well-coordinated and reliable Ambassador Bus company  (Ambassador is a bus stage adjacent to the Ambassador Hotel). The KBS and City Hopper bus are the main shuttles buses that use the stage. We used City Hopper that day.

There are also a number of taxis services available that can take you to the park either one way or a round trip. If you prefer a more comfortable and luxurious service, you can hire one of the tour firms. Most of them include a package tour to the park and nearby Animal orphanage, Safari Walk and the David Sheldrick Wildlife Trust.
Want to grab some refreshments and bites before heading off on your game drive? Pop into Sebastian Restaurant near the main gate. It was named after the famous ape "The Sebastian" in the national park.
There is also a KWS Three -Star restaurant strategically situated overlooking the open park where you can view small monkey families playing around. Watch out they don't snatch a banana from your mouth!
The park is opened daily including public holidays from 6.00 a.m. – 7.00 p.m. visitors are not allowed entry after 6:15 p.m. unless by special arrangement.   
Home

›
Nairobi Safaris & Tours
› Nairobi National Park