Eating Safaris - A Guide to Nairobi Restaurants
Want to eat out like a Kenyan in only the best Nairobi Restaurants? Well look no further. I have personally selected the finest restaurants, which will allow you a real taste of authentic Kenyan cuisine. These restaurants will leave you craving for more Kenyan dishes as you enjoy new foods and new tastes.

Carnivore Restaurant
Let's start with my favorite of all Nairobi restaurants - the "Beast of Feast" restaurant - otherwise known as the Carnivore. I always find myself yearning for more of this place's traditionally barbecued "Nyama Choma" meat. These guys serve large quantities of meat and if you are a meat feast lover, then you are in for a great dining experience.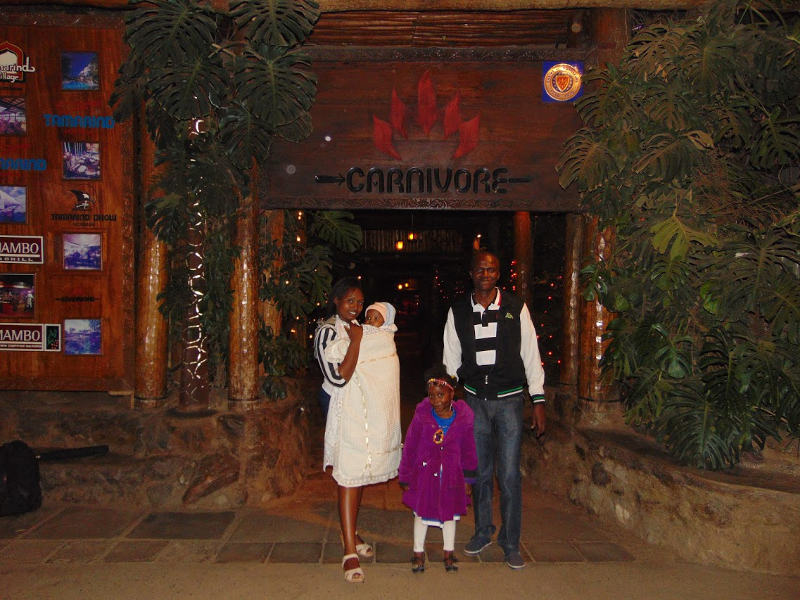 Me & the Family
After our family safari trip to the Nairobi National Park on Saturday afternoon, we were feeling exhausted and very hungry.
We just needed a nice place to relax and have some nice food to fill our tummies. My five year-old daughter - Sherllyn - was almost crying because of hunger.
It didn't take us long to arrive at the Carnivore Restaurant, which is just adjacent to the Nairobi National Park fence.

The reception was awesome and the interior decor outstanding, giving you the true feeling of the African spirit.
Set in tropical savannah gardens, the surrounding environment was just soothing - exactly what we wanted.
The aromas wafting our way from the barbecue were so appealing - we knew we were in for the feast of a lifetime.
After we had ordered, it didn't take long before it was on our table… and we become real carnivores.
The meat was good and kept flowing - just like we wanted.  The side dishes and salad were fresh and incredible too.

You have a flag you lower when you've had enough. It didn't take long before we had to surrender and I tipped over our flag to signal we couldn't eat anymore.
By the time we left Carnivore we were satisfied, like lions after a kill.

Exotic wild game meats like hartebeest, zebra, kudu, and impala are now off the menu, because of strict government laws. However, some farmed game meats like ostrich and crocodile, obtained from private farms, are still available.
Nevertheless, the way camel, lamb, beef, pork, turkey and chicken are arranged on the huge barbecue and charcoal roasted is just mouth-watering. You have a choice of à la carte or a buffet.
There is a restaurant bar where you can enjoy local and international brands. Don't forget to ask for Dr. Dawa's drink "Dawa", which is a Swahili word for medicine. It's basically an alcoholic cocktail consisting of vodka, lime and honey to give you a sweet and refreshing feeling and help settle your stomach at the end of the meal.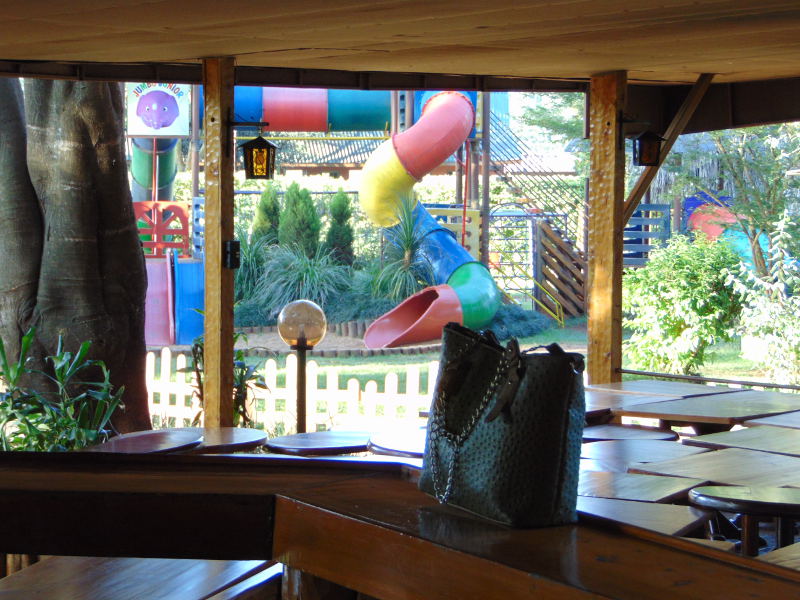 Children's Play Area
They have a nice large playground for children and a function area - where shows like the famous comedy "Charchil show" are hosted. There are also some nice artifacts at the gift shop as you enter the restaurant.
Located in the Langata neighborhood, near the Nairobi National Park and Wilson Airport, Carnivore Restaurant is in a prime location to enjoy Kenya's safaris and heritage. 

Although the prices are not that cheap, the dining experience is worth far more than the cost. Of all Nairobi Restaurants this one is the most famous.

Tamarind Nairobi Restaurant in Karen
If your delicacy is seafood, then Tamarind Restaurant is there for you. Despite being a good distance from the sea and lakes, they have the most amazing seafood menu of all Nairobi restaurants and their menu hardly changes which means the consistency of the cooking is marvelous.

Situated in a heritage British bungalow in the serene setting of the Karen Blixen gardens, Tamarind Restaurant offers one of the most upmarket dining experiences of all Nairobi restaurants. The interior is cozy and the adjacent open-air garden is fitted with Sultan like umbrellas which are very pleasing to the soul and mind. It's a wonderful retreat for a lunch buffet or dinner.
The Restaurant specializes in a wide range of seafood and their food is fantastic. The fresh oysters from Kilifi and the sashimi are to die for as are the ginger crab claws. The menu has an extensive selection of seafood – lobsters, piri piri prawns, tuna, salmon, red snapper – you name it! 
Service here is just remarkable and very professional. I like the way waiters walk around checking on everyone to ensure their customers are happy. They even offer informed suggestions on which foods to eat in case you need their input.
If you don't like seafood don't worry, they do have meat grilled to perfection, fresh veggies, deserts and salads to keep you full. There is also some nice wine and cocktails to freshen you up.
On weekends the restaurant is very busy and the staff work really hard to ensure they don't disappoint. Prices may be on the higher side if compared to other Nairobi restaurants but the dinning and service is just marvelous and worth it.
Talisman Restaurant
Another one of the upmarket Nairobi restaurants is Talisman Restaurant - a restaurant the New York Times calls "the best place in town" . Food is always well prepared with only the freshest ingredients that are locally sourced wherever possible. You've international dishes, fusion dishes (combining Asian, African and European cuisine) and traditional Kenyan too.
Featuring carved wooden pillars, Talisman restaurant blends excellent dining with friendly eclecticism. Located within the Karen shopping center, they are the best option if you are seeking a candle-lit romantic dinner. 
You can also participate in one of their partnership activities like "get your hands off our elephants" charities where they donate a certain amount of your bill (check) to wildlife organizations that help preserve Kenya's wildlife.
Amaica Restaurant
Set against the backdrop of the Karura Forest in Westlands and 1km from Westgate Mall, Amaica Restaurant is a unique place. They serve tasty authentic local dishes from around the country which I enjoyed with a friend. The desire to try a wide range of fresh dishes, from different ethnic groups, cooked in a traditional Kenyan way, made me come to Amaica.

A friend of mine recommended the restaurant to me and we decided to visit one weekend.
It was worth it.
We arrived around 7 p.m. and the service team warmly received us. The first thing that gave use the feel of tradition was the outdoor and interior seating – well decorated to fit the African cultural banquet style. 
Our server took us through the menu and we chose to start our traditional dining experience by ordering "usuu" (sour millet porridge) from the Kamba land that was served in a traditional earthed pot - calabash... it was amazing!
Our yummy main dish included grilled rabbit, pork and lamb accompanied by a memorable "ugali ya wimbi" side dish made from "mchicha", pumpkin leaves, spinach and salad. 
Before we left, we could not resist the temptation of asking for a piece of "African sausage" (locally known as mutura) from the barbecue and it was just delicious.
There are an array of other traditional cuisines available like smoked fish, beef and chicken, "biriani ya kuku" from the coastal region, roasted flying ants (seasonal) and matoke from western Kenya as well as a variety of other indigenous dishes, desserts and ethnic veggies from across the country.
You have a choice of à la carte or a buffet. The Gourmet Safari Buffet is a set menu consisting of seven courses of authentic dishes from across the county. Each course is served in earthen pots and the service team will explain to you how the food is prepared, from which region it is from and if it has any cultural importance.
With some foods though you'll have to request when booking since they need time to prepare and others have to be sourced from far like the smoked fish and roasted flying ants.
If also you'd like to taste African brew, like the "muratina beer" from the kikuyu community, you'll have also to make prior arrangement as well to have it sourced and prepared for you.
The prices are above average for Nairobi restaurants; however this is compensated by the excellent food and a true Kenyan cultural experience. You'll always find a dish that will end up being your favorite.
Mama Oliech Restaurant
Located in the residential neighborhood of Kilimani, Mama Oliech Restaurant is one of the most affordable Nairobi restaurants to enjoy ethnic dishes.
Their most famous dish consists of whole deep fried tilapia or wet fry fish, accompanied by either millet or corn flour "ugali" and some local veggies and "kachumbari". For less than  Kshs 1000 ($10) you are in for a nice meal. 

The restaurant is not that classy but they really prepare nice dishes from western Kenya. The way the food is cooked is traditional. Their main source of energy is fire wood to give food that taste of ethnicity. 
The cleanliness and service is up to standard and if you really don't fancy seafood, you can have roasted and deep fried chicken.
Particularly at lunch times, the place is busy as hungry fish lovers trek in for their favorite dish. 
Recently Facebook founder Mark Zuckerberg visited the restaurant and this is what he had to say "One of my favorite parts of traveling to a new country is trying the food. I enjoyed ugali and a whole fried tilapia for the first time and loved them both!" he posted on his Facebook page.
Fridays and on the weekend, there's a live band to keep customers entertained as they enjoy their food and drinks.
Home

›
Nairobi City Guide
› Nairobi Restaurants