Karen Nairobi
Karen Nairobi is the most famous of all this huge city's suburbs. Named after Karen Blixen, whose life featured in the movie "Out of Africa", it is one of the essential sights to see if you are visiting Nairobi.
Karen gives you this feeling of being in an affluent community. One thing that's definitely noticeable is the calmness of the area and the fresh aroma from the swaying trees. 
Lying south west of the city centre, life here is well above the reach of most locals, making it one of the least populated Nairobi suburbs. Most people who inhabit Karen are Europeans and high-income locals who can afford to buy the expensive properties.
Karen got its name from Danish settler Karen Blixen, who used to own a large coffee plantation in the area. "Karen's" suburbs were created by parceling out the 6000 acres of her farm after she returned to Denmark.

If you are looking for some leisure time in Karen Nairobi you'll be amazed by what it has to offer. Some of the venues to visit are:
The Karen Blixen Museum 
If you have watched "Out of Africa" you'll love this place. Located just 20km from the city center at the foot of the Ngong Hills, this is Kenya's first house museum - Karen Blixen's Museum. Built in 1912, this bungalow-style colonial farmhouse was bought by Karen and her then husband Baron Blixen in 1917. The house museum stands on what was once their extensive coffee plantation.

"Tanne", as her African friends used to call her, lived here until she returned to Denmark in 1931 after suffering a series of personal tragedies. When she left, her house was sporadically occupied until it was converted into a museum in 1986.
Before you begin your guided tour inside the "Mbogani", a Swahili word that Karen had named her house meaning "house in the forest or woods" your guide will take you through a brief talk of the life and times of Karen Blixen.
Once inside, the roomy house features rooms still with original furnishings like the library, dining room, lobby, bedrooms, kitchen and bathroom. Some of the notable items in the house are a bookcase built for Finch Hatton's books, a cabinet where she used to keep medicine to treat the sick on the farm, a phonograph, lamp, her clothes, telephone, cuckoo clock and dining table among other items.
The management doesn't allow filming or photography inside the house, so you won't be able to get your selfies inside. Sorry, it's just their policy.
Karen Blixen Gardens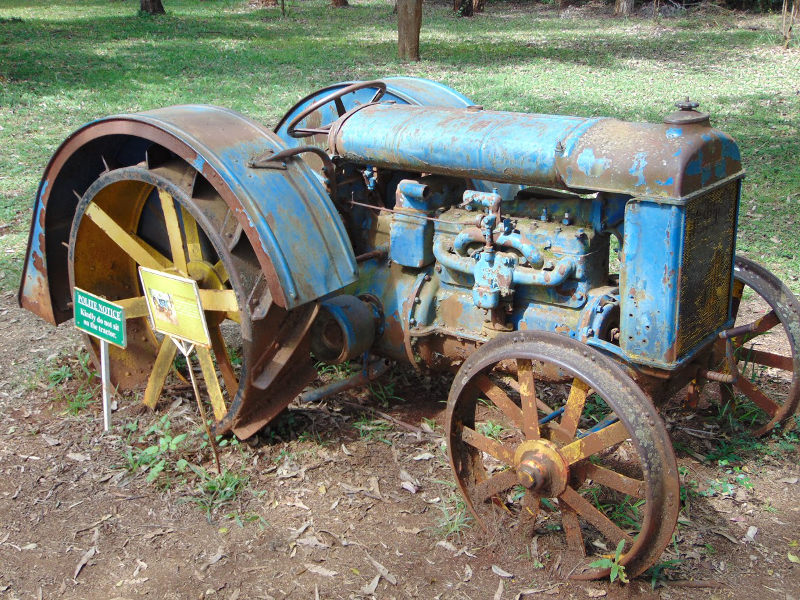 Karen Blixen's old farm equipment
Outside the house are the huge and beautifully maintained gardens of extensive lawns and towering trees.
There's a section with the farm equipment Karen used to cultivate her farmland with. Although some are worn out, they depict the hardworking and determined woman that Karen Blixen was. The garden can be rented out for wedding receptions and other event functions like hosting parties.
Karen Blixen is also an aclaimed poet, artist and author known for her amazing writing skills. Some of her writing works include Seven Gothic Tales, Shadows of the Grass and her famous book "Out of Africa" which was the story told in the Oscar Award winning movie "Out of Africa". The movie was not filmed in this house but in a nearby farmhouse "Mbagathi" where Karen first lived.
There is also a gift shop where you can buy Karen postcards and books, "Out of Africa" movie mementos and other locally made artifacts. The museum is open daily, including on weekends and public holidays, between 9:30 and 6 pm.
Oloolua Nature Trail
If you are adventurous and like hiking and camping in the woods, Oloolua Nature Trail offers it all. Just a few minutes' walk from the Karen Blixen museum, Oloolua Nature Trail is a tropical dry forest largely of indigenous trees with a few exotic species. The nature trail meanders through thick forest vines and bushes below giant native trees.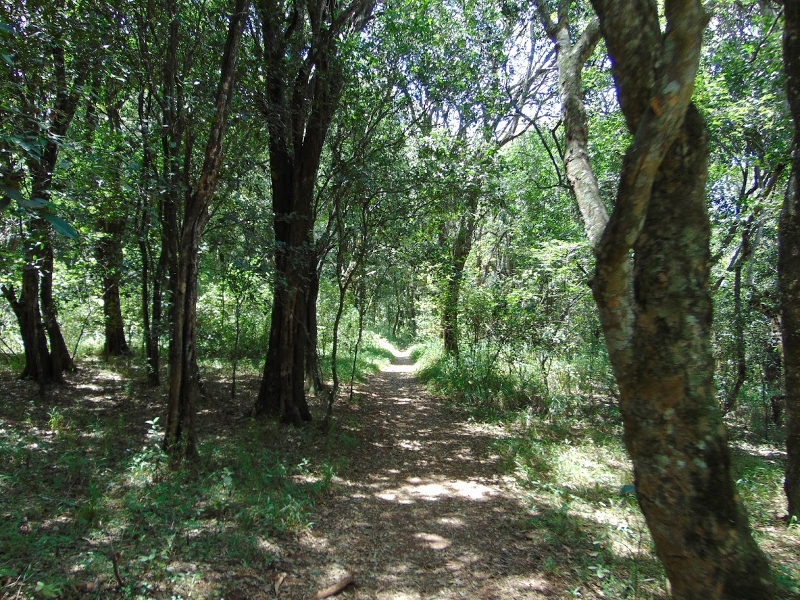 In an effort to conserve the few remaining patches of the tropical dry forest that once covered Nairobi, part of the forest was allocated to the National Museum of Kenya and to the Institute of Primate Research (IPR).
They also established a nature trail for nature lovers providing them with a peaceful retreat.

As you cross the bridge into the woods, fresh air and birds chirping welcome you into the wilderness.
Along the way you'll discover amazing scenery like the lovely little waterfall on the Mbagathi River, the same river that Karen Blixen used to get farm water from. What really astonished me is the water pumping system she used – I could not believe it is still working and still in use today.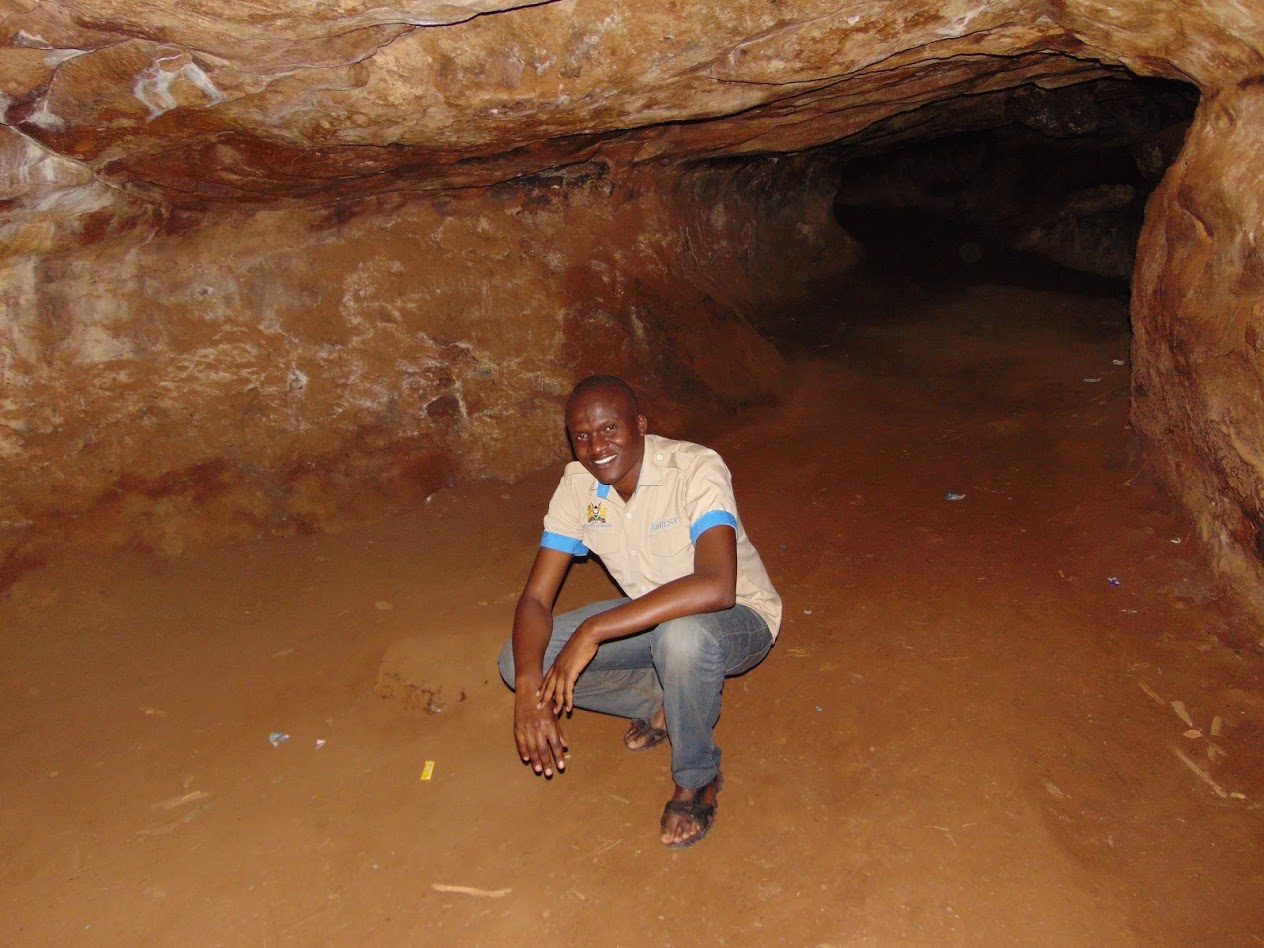 Me - inside Oloolua Cave
Deeper into woods, there is natural 37 meter long cave that is believed to have once housed Mau Mau freedom fighters during colonial days. The cave today is home to the bats and other small animals that inhabit the area.
If you'd like to explore it, use a flashlight since it's a bit dark inside. Along the river bed is Bamboo Rest Point where you can relax as you regain energy to go further down to the Papyrus swamp.
You are likely to come across some people hiking, running or jogging in the woods and you are welcome to bring your dog along with you if you so wish.
There is also picnic and camping site where you can light bonfires, barbeque, tell stories, hold a group retreat or even propose to the one you love. Most birds and animals are seen in the morning hours and camping gives you added advantage of being able to spot most of them.
Entry fee to the park varies depending on what activity you are intending to carry out.
Karen Nairobi Giraffe Center
This is an incredible place. Coming so close to world's tallest giants and having the chance to touch or even kiss them is really priceless.
They breed endangered Rothschild giraffes in captivity and when newborns turn three, they are reintroduced into the wilderness to continue breeding to increase their numbers. I always have that craving to visit the center over and over again. You can see why it is so special here.

Ngong Racecourse
Although the Ngong Racecourse is not in Karen Nairobi it is very near and it is the perfect place for horse lovers or anyone wanting a great day out. You'll see from the video that there's lots more than just the horse-racing  -  with winning food, fun for the kids and even market stalls to shop at. You might even pick a winner too.

Shopping
Kazuri Beads and the Hub are the two main shopping attractions in the area - you can read about them in our Nairobi shopping guide.

Accomodation
One of the most gorgeous place to spend your night is Hemingways Hotel Nairobi. Located on the actual Karen farm, being here is like stepping back in time to the luxury African travel of yesteryear.
Featuring an elegant interior lobby design, all 45 rooms have eye-catching views of the beautiful green hills of Ngong, which Karen Blixen honors by "…I owned a farm in Africa at the foot of Ngong hills"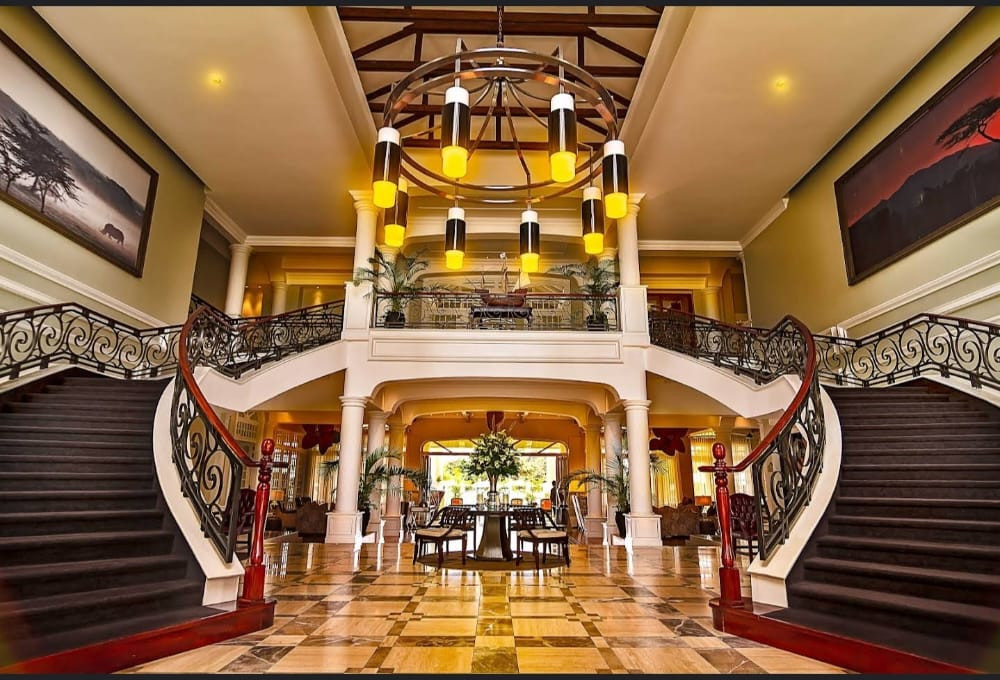 If you are on a romantic trip, this is a wonderful place to be before heading off to explore Kenya's savanna safaris and beaches. Because of the quiet calmness within the hotel, it's hard to believe that you are in Nairobi. All rooms are suites and of very high standard with classic elegance.
The way the TV pops up from the trunk is one of the many unique aspects of Hemingways Hotel Nairobi. Lunch and dinners are superb and if you would like to surprise your friend with a present, there is a tempting gift shop with a wonderful selection.
Restaurants in Karen Nairobi
Tamambo Karen Blixen restaurant and the Talisman restaurant both offer excellent dinning in the Karen area. Our restaurant guide has more about both these restaurants and others in Nairobi.