Stanley Hotel Nairobi 
A part of the very history of Nairobi, rich in atmosphere and home to the legendary Thorn Tree Hotel.  The Stanley Hotel Nairobi is an icon.
Located in the heart of the city, and now part of the Sarova group, this is Kenya's oldest and first luxury hotel.
Opened in 1902 its guests enjoy easy access to Nairobi's bustling shopping areas and business districts like the Masai Market and the Kenyatta International Conference Center (K.I.C.C.), both just a stone's throw away.
For over a century, those heading out on safari have met right here before leaving. It serves Kenya's finest cuisines and offers a distinguished retreat for travelers. 
Even though the Stanley Hotel Nairobi has been completely refurbished, in order to offer guests modern 5 star comfort, it has retained its colonial charm and sense of history.
Ranked as one of the world's leading historical hotels; the moment you walk through the front door that sense of history embraces you and you too become a part of that ongoing history. Your adventures adding to those of thousands of adventurers from last century.
Take one of the hotels free heritage tours that they arrange for guests and feel history come alive.
Rooms 
Build at a time when there was no scramble for space, rooms at the Sarova Stanley Hotel Nairobi are big, spacious and present a blend of Victorian elegance with scenic views of the city. Its walls are designed to prevent noise from the busy streets of Nairobi; you will hardly even notice you are in the middle of a city.
All rooms are fitted with high speed internet access, modern entertainment facilities, 24-hours room service and an in-room dining menu. As of today, Stanley has a total of 217 rooms most of them overlooking the city. They include club rooms suitable for guest traveling for business, deluxe rooms and several suites.
Some rooms have been named after renowned authors, prominent world leaders, and other distinguished international celebrities who have stayed in the hotel or in one way or another played a part in the Stanley Hotel history.
For example, the Karen Blixen suite portrays the life Karen Blixen, author of "Out of Africa", while the Hemingway conference suite is named after author Ernest Hemingway and the Churchill Ballroom after Winston Churchill - just to name  a few.
Restaurants
Stanley Hotel Nairobi features three restaurants that serve different kinds of Kenyan, European and Asian cuisine.

At the entrance of Sarova Stanley is the legendary Thorn Tree Restaurant;  a Nairobi landmark where travelers used to pin notes to others onto the thorns of the tree and used it as a message depot.
The first generation of the tree was here in 1902 making it the first Nairobi post office. People used to come here, read the messages, share their news and relax under the thorn tree shade.  I guess it was a little like the Facebook of it's day.
A new generation of the tree is planted after 50 years and at each new planting a time capsule is buried under the tree. Currently it's the third generation of the tree and you too can leave a message. 
Now let's eat. If you enjoy Thai food you'll love the Thai-Chi Restaurant on the first floor. It's  is a small piece of Thailand in Nairobi. With its traditional fine art and Thai decor and delectable Thai cuisine, Thai-Chi has been rated the most authentic and elegant Thai dining experience in Nairobi.  
The Pool-deck Restaurant on the fifth floor is the place for romance with the views across Nairobi providing a gorgeous backdrop to an ideal dining experience. It serves Kenyan cuisines as well as popular continental and Asian dishes.  Really do try there legendary Sunday barbeque lunch between 12.30pm and 3.00pm. You'll eat enough to last you the entire week!
The Exchange Bar
Named after the Nairobi's Security Exchange, where local stocks were first traded in Nairobi in 1954, the Exchange Bar dates back to 1912 and was Nairobi's first bar. It retains the feel of a traditional English Gentleman's club.
Its interior furnishings provide a warm and lively meeting place for people from all walks of life to enjoy Kenya's famous local brew 'Tusker' and other amazing bar cocktails or snacks. In fact it was right here that Kenya's locally brewed beer 'Tusker' was first tasted in 1922. Cheers let's drink to history!
There are antiques in the bar portraying its history,  like the cooling fans specially build for Queen Elizabeth when she visited the bar as a princess, the gramophone given to Karen Blixen by her husband and the exchange bell used to sell stocks. There is a rumor that if you ring the bell you'll buy everyone in the bar a drink... if you are a risk taker you can try it out. Just have your wallet ready :-)
Leisure Options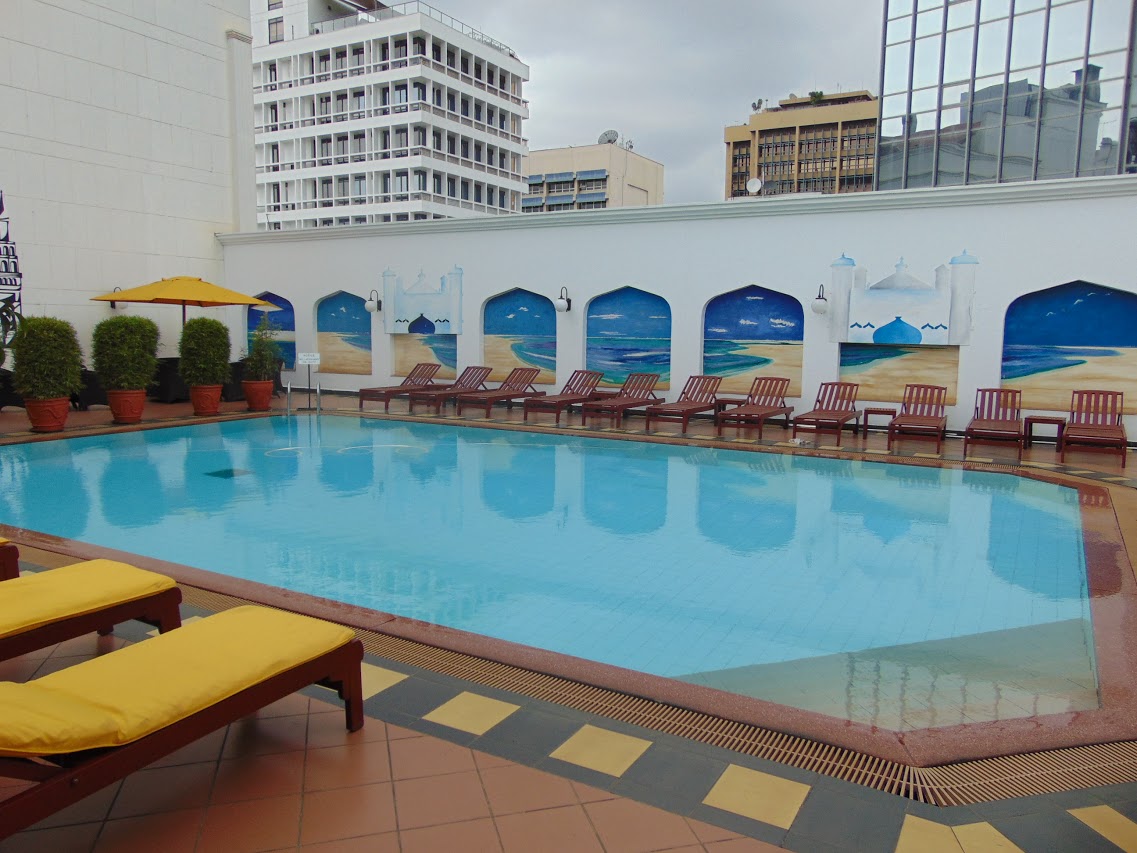 The Stanley is fitted with a modern fitness area where you can treat your body, mind and soul. Adjoining the swimming pool, the Sarova Stanley Nairobi Health Club includes a gymnasium, aerobics studio, spacious sauna, steam bath and relaxation rooms. . . aerobics and yoga can be provided upon request.

I hate swimming in a cold pool and, luckily for people like me, the pool is heated to just the right temperature  - like Goldilocks's porridge it is neither too hot nor too cold.  So take a dip in a pool with a view.
Services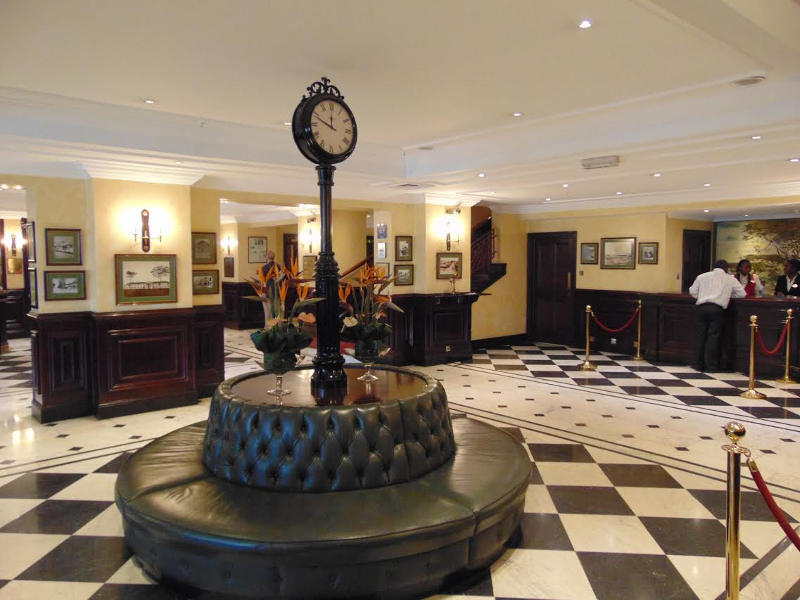 Stanley Hotel Lobby
Front desk staff are happy to organize transfers to and from the airport. If you are on a safari to Kenya's game parks like the Nairobi National Park the hotel can link you up with a tour company.

Being a part of the Sarova Group Hotels & Resorts, which include Sarova Whitesands-Mombasa, Sarova Panafric- Nairobi and the Sarova Mara Game Camp - Masai Mara  -  they'll be happy to oblige if you need an onward booking at one of the chain.
Home

›
Nairobi Hotels
› The Stanley Hotel Nairobi