A Dhow Safari from Mombasa is an Experience of a Lifetime
If you are looking for a memorable dhow safari experience, then there is one destination that really stands out.
That destination is the Kenyan coast.
Through rough seas and monsoon weather, one ship has sustained trade and travel to the Kenyan coast for thousands of years. And that ship is the dhow!
They are still in use today for fishing, trade, and tourism.
Some are in Mombasa itself, but many are a few hour's drives away along Kenya's beautiful coastline.
You won't find long lists here but be assured that none of these dhow safaris are likely to disappoint. Only the ones that offer a thrilling dhow safari experience and great value for your money made to our list
Honeymoon Dhow Safari

Thinking of giving your loved one the experience of a lifetime? When it comes to a romantic dinner cruise, there isn't much that can beat Tamarind Dhow.
Perched on the shoes of Tudor creek cliff, one of two waterways that separate the city of Mombasa from the Kenyan mainland, Tamarind Dhow is like a floating restaurant.
With two sailings per day, you may choose lunch under canvas shade from the midday sun or a tranquil candle-lit dinner under the stars. Enjoy a blend of the best quality seafood and the best steak on the Kenyan coast as you listen to live band music as you cruise along the creek.

Adventure Dhow Safari

Want a scenic sea adventure into a secluded hidden gem? Kinazini Funzi Dhow Day Safari offers unique travel into the unspoiled Funzi ecosystem. Cruising in between mangrove-rich islands and islets down to the village on Funzi Island, stopover at lost paradise sandbanks, canoe trips upriver Ramisi for birds watching and crocs. And for something special, enjoy a rewarding lunch at their own tiny private Kinazini island. Here is more about Funzi island>>

Creek Dhow Safari

When it comes to creek safaris, Mida creek is all that guarantees to satisfy your desire for the quainter sensual creek experience. Listed under UNESCO most productive biosphere in the world, Mida Creek a sanctuary for birds and a breeding ground for marine animals, and conservation of rare kinds of mangrove trees.
Enjoy the inviting canopy of the mangroves trees – if only you can withstand the swaying and twisting of the suspended boardwalk. If you find it hard, you can use canoes to take in the beauty of the creek by skimming effortlessly across the water. And for something a little more under the radar, check out Eden Island- believed to have a stress relief remedy once you touch its sands. 

Family Dhow Safari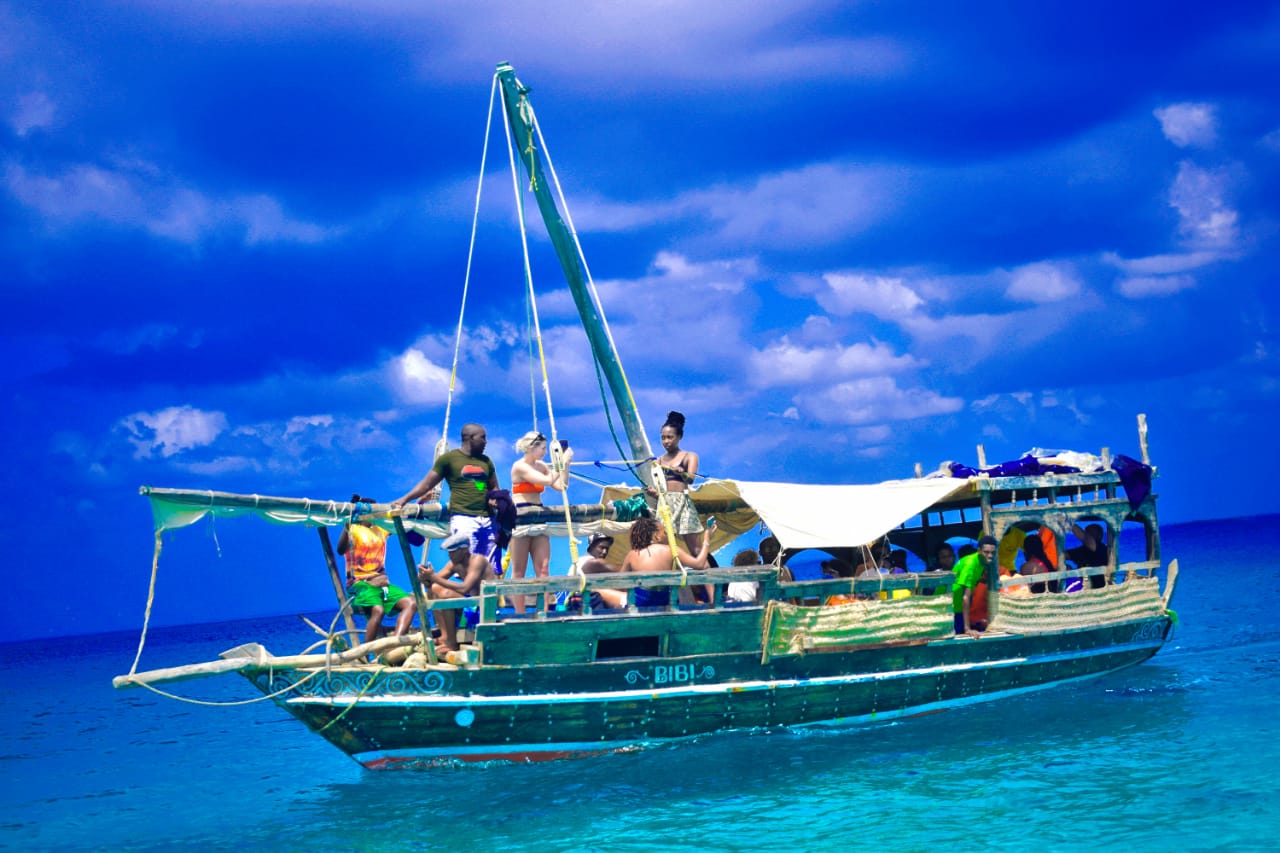 Some dhow safaris are best suited for family and friend's come together to unwind. Wasini Island, ranked as the world's premier ocean marine park, is best known as home to dolphins and snorkeling paradise.
The marine park offers snorkeling for people of all levels, from beginners to fanatics. Here is our detailed guide to Wasini Island>>