Nairobi Shopping Essentials
Visiting Nairobi?  My Nairobi Shopping Guide has all the information you need on what to buy and where to buy it; ranging from upmarket and modern malls to exemplary artifacts shops that reflect our culture and tradition. This city has a present for everyone :)
Traditional Nairobi Shopping
Maasai Market
A visit to the Maasai Market is a great way  to get a glimpse of what Kenyan culture is all about and probably the ultimate Nairobi shopping experience for those wanting an authentic Kenyan experience.
I love chatting to the craftsmen, and know you will as well. They all have fascinating tales to tell and their skills have been passed from generation to generation.  Crafts include hand-woven fabrics, weaved basket, bright maasai beads, footwear, hand crafted leather works, woodwork, batik wall paints, polished soap stones, iron works and whole host of other exciting goods.
If you are keen-eyed, you will notice the different kinds of ethnic artifacts, often they are similar but vary slightly in color or design reflecting regional traditions. Prices here are negotiable and you can't miss finding at least a few great gifts to bring home.
The market is held around the city at different venues on different days. For example on Tuesdays - it's held at Prestige Plaza, on Wednesdays - at Capital Center, on Thursdays - The Junction Mall, on Fridays - it's held at Village Market and on weekends, which is their biggest market, they are located in the Supreme Court parking yard.
A visit to the Maasai Market is, for me, like reconnecting with my culture once again and, even if you are not Kenyan or Maasai, the experience is unforgettable. The one Nairobi shopping experience you really don't want to miss.
Our Tip: I recommend you come along with someone who knows prices because vendors will take advantage of you if they see you are a tourist. You're welcome to contact me  at the bottom of this page and I'll recommend a tour guide - or maybe take you around myself .
Utamaduni Craft Center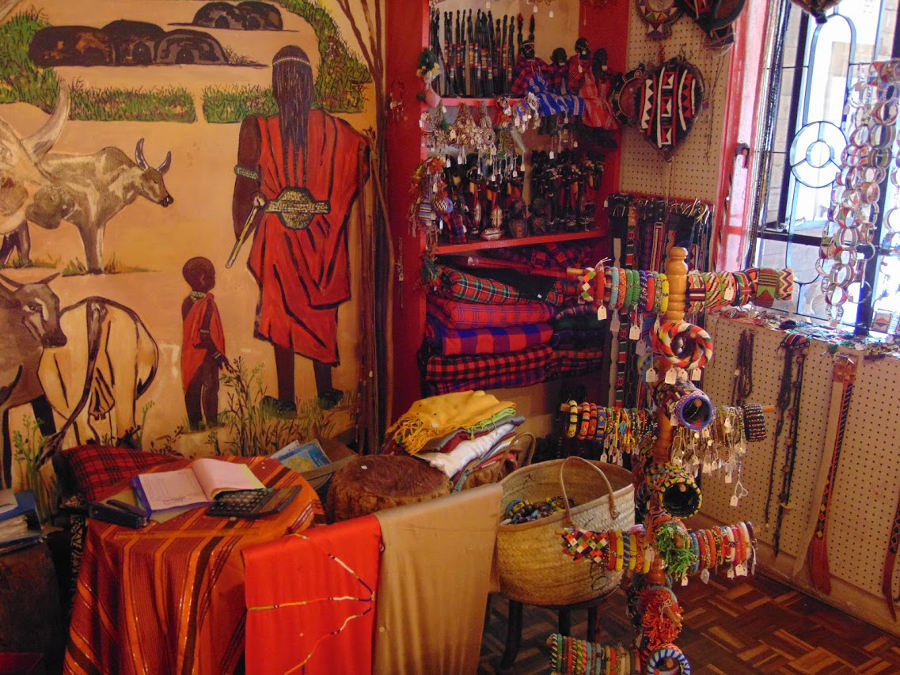 Set in an old mansion house along Bogoni East Rd off Langata/Karen Road, Utamaduni Craft Centre is the perfect place to find that unique gift or decorative piece for your home. It stocks a wide collection of Africa's best arts and crafts from across the continent including unique wood carvings, antiques, bronze items, jewellery, furniture and fabric of the highest quality
"Utamaduni" means cultural and heritage, and, unlike the Maasai Market, it's a quiet and calm place free from the relentless hawkers hustle. No chance to barter either - prices here are fixed.
Within the complex is Utamaduni Veranda Restaurant, a wonderful place to relax and enjoy a meal. It has inside seating complete with fireplace for chilly winter days while in summer you can enjoy the fresh air in the veranda garden set with tables under shady umbrellas and trees.
Kazuri Beads Factory
You'll be amazed by what the women at Kazuri Beads Factory can do as they turn lumps of clay into dazzling ceramic jewellery masterpieces. 
Located just a stone through away from Karen Blixen museum, Kazuri, which is a Swahili word that means "small and beautiful", was foundered by Lady Susan Wood in 1975. Her aim was to provide sustainable employment to disadvantaged African women that were in great need of regular employment. Today Kazuri has grown into an international brand with outlets worldwide.
Jewellery and other pottery items are hand-made from special clay and hand-painted to create a brightly-colored shine on the surface. To harden and brighten the ceramic, they are then past through a kiln and heated at high temperatures.
Kazuri offers free tours around the factory's workshop where you will see the whole process from molding raw clay through to the finished decorated glittering product. Other than ceramic items, there are traditional artifacts available in their showroom shop like sandals, belts and buckles.
Western Style Nairobi Shopping
Nairobi has a number of world-class shopping malls where the latest western fashions and flavours mix with Kenyan favourites.
One of the unique aspects of these shopping complexes is that they cater for everyone's needs under-one roof. Secure recreational activities for children in the shopping centers give parents peace of mind while they shop to their heart's content.

Two Rivers Mall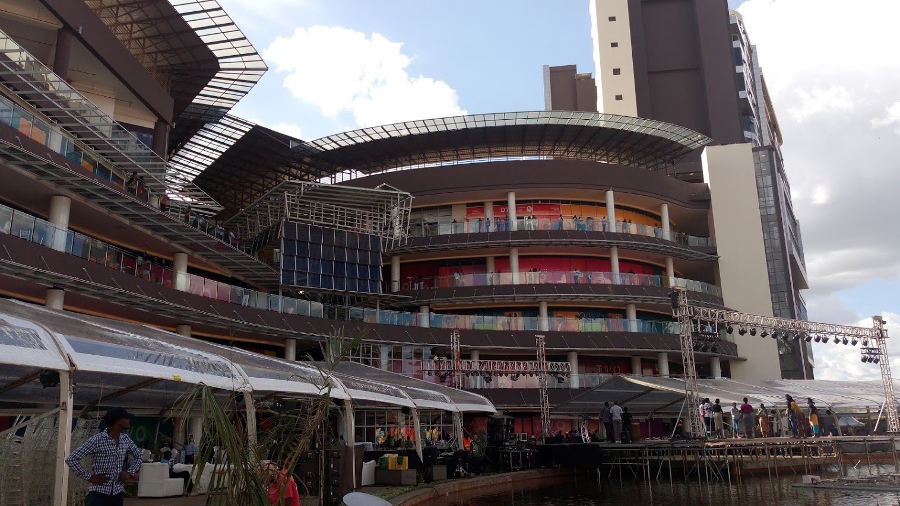 Set within the affluent neighborhoods of Runda, Muthaiga and Ruaka, Two Rivers Mall is Nairobi's latest landmark and the largest shopping complex in Central and Sub-Saharan Africa. Two Rivers Mall brings major shopping destinations like Dubai, South Africa and Turkey right here to Nairobi.

With amazing view of the riverfront and open green spaces space plus a 24 hour modern security system, visitors enjoy a timelessly different experience. Featuring recreational facilities like the Magic Planet entertainment centre and the VOX cinema, culinary outlets and retail stores (both local and international brands); you'll find an entire day can easily pass inside this incredible mall.
If shopping gets a bit much simply relax in the main square and watch the dancing fountains and laser shows.
With a 3 star and a 5 star hotel within the premises, travelers can enjoy world class accommodation and shopping. From your hotel room you can just go to your veranda, walk through the tunnel and go shopping.
Using Two Rivers Mall app, you will enjoy more convenience like smart parking, access to promotions and events and it will also help you navigate the complex.
Definitely the most impressive Nairobi shopping experience - I love it!
Garden City Mall
Another superb mall is Garden City Mall, situated along Thika Super Highway and within walking distance of the Safari Park Hotel. 
Out of rush hour it's about a 15 minutes drive from central Nairobi so make sure you go out of rush hour in order to save yourself a lot of time and avoid the "experience" that is Nairobi's traffic.
Garden City Mall is home to over 100 stores offering a wide selection of international and Kenyan brands and was Kenya's first residential, office, retail and recreational integrated mall.
You'll definitely not get bored here with artifacts stores, electronic shops, supermarkets, fashion and beauty stores, jewellery shops, movie theaters,  a wide variety of restaurants, cafes, health services, and lots lots more.
The playground park is designed to accommodate and entertain the whole family from young to the old with nice surroundings, beautiful gardens and a fascinating water fountain.
Westgate Mall
Centrally located in the heart of Westland, Westgate Mall is a luxurious western style shopping center that truly surpasses every shoppers expectations.
Though it's not a huge mall, Westgate its one of the most visited malls in Nairobi. It has good restaurants, retail shops and entertainment facilities
It's one of the malls that has the most advanced 24 hour security system and shoppers are assured of a convenient shopping experience in a relaxed environment.
If you are interested in buying some African artifacts there are stores like Kazuri and some stands along the corridor that have amazing gifts of great value.
Sometime back, the mall had closed down due to an unfortunate incident but now it's fully reopened and operational - a symbol of recovery and prosperity. 
Galleria Mall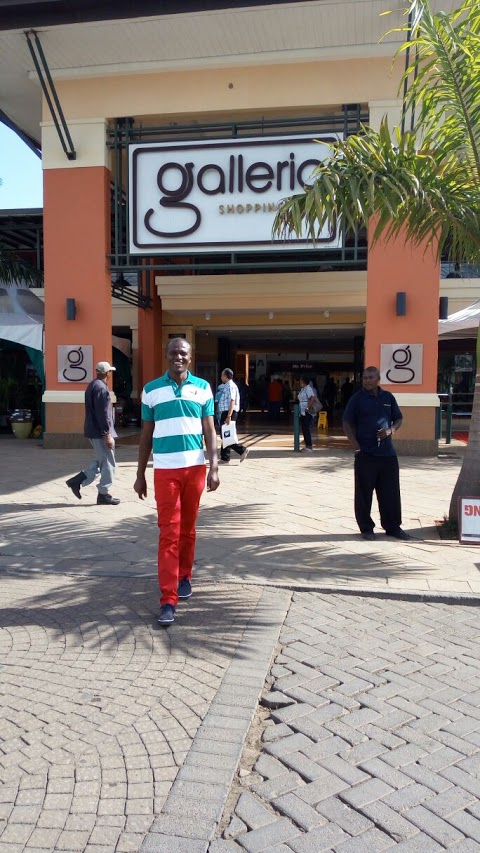 Located along Langata Road, opposite Bomas of Kenya, and adjacent to the Nairobi National Park, Galleria Nairobi Shopping Mall is one of the most impressive retail destinations in Nairobi. The mall is adorned with warm color themes that reflects Kenya's red earth and the African sunset.
It's an ideal stopover when visiting the Nairobi National Park, Mamba Village, Bomas of Kenya and other local attractions in Karen.
There's great shopping, a vast array of dining experiences and plenty of entertainment - kids love the quad bike rides.
Looking for that perfect gift that speaks of Africa? G-craft Africa Center is the store to visit. It's like a small Maasai Market with several kiosks selling different kind of wares  - they are a bit pricey but there is room for bargaining.
The Village Market
Village Market is one of the leading Nairobi shopping, recreation and entertainment destinations. The complex exemplifies the spirit of the African market. Set in Nairobi's leafy Gigiri suburb, and only about 15 minutes from the central district business, the Village Market is a heaven of peace and tranquility.
This Nairobi shopping complex houses about 150 local and international retail stores ranging from accessories, clothes, shoes, a toy store as well as a popular chain stores and a diplomatic duty free supermarket. Recreation facilities include a state-of-art cinema, mini golf courses and a bowling alley.
Village Market also houses essential services like, banking, health care, beauty salons, a gym and spa plus a new five-star hotel – the Tribe Hotel.
Being the first mall to introduce the food court concept in Kenya, the Village Market prides itself as an international and local culinary hub. There are various outlets to choose from serving menus from a vast selection of nationalities and origins ranging from Italian, African, Thai through to Japanese.
Dining by the open-air food court, especially during holidays and weekends, allows you to enjoy beautiful gardens, waterfalls and live bands in a fun atmosphere.
The Maasai Market is held here every Friday.
Junction Mall
Another mall that's reinventing the Nairobi shopping experience by blending local and international retail experiences is The Junction Mall. Located along Ngong Rd, it has good brand stores like Woolworths, Kazuri, a BabyShop, Mr Price, a movie theatre and a proper food court.
Heavy traffic along Ngong Rd can leave you feeling stressed but a visit to the Junction will soon soothe away your worries with some great retail therapy.

Maasai Market is held here every Thursday.
The Hub Karen
The Hub
If you are all about experiencing unique destinations the Hub is it! Featuring a European architectural design, The Hub is said to be more than a mall for the way it's changing the face of Nairobi shopping. The Hub consists of an extensive green area, amphitheater, 3d cinema, gym & spa, jogging track, and a piazza where there are lots of leisure and entertainment activities, especially for the younger generation, like skateboarding, hover-boarding and segway riding.
Local and international firm have opened outlets to attract local and foreign customers. French retail giant Carrefour opened there first store in Kenya and Sub-Saharan Africa here and Carrefour is just one of the many international brands operating at The Hub. Also available are a variety of restaurants and food courts, fashion, banking and shopping outlets.
At the far end of the mall is a small lake and dancing fountain. Orchid flowers nearby add to it's beauty. You can enjoy a boat ride and fishing activities at a small fee.
The tight security ensures you can go about your business fully relaxed. You can spend the whole day here with all your need under one roof.